If you've got plantar fasciitis, you know the pain of walking around in the wrong shoes. Without the proper support, your feet are uncomfortable with every step. Chances are, you've found shoes or insoles to help combat the condition.
But what do you do during the summer? If it's hot out, bulky sneakers aren't your best friend. But, regular flip flops hurt your feet. They're flat and don't have the support you need. After all, flip flops are designed to be lightweight, not supportive.
Thankfully, the best flip flops for plantar fasciitis are out there! We've done some research into this new market, and compiled a list of some top options available online. Below, you'll find full reviews of each sandal. We've judged them based on comfort, support, price, and online reviews. You'll also find a list of Things To Think About as you shop at the end of the reviews. 
Best Sandals for Plantar Fasciitis Reviews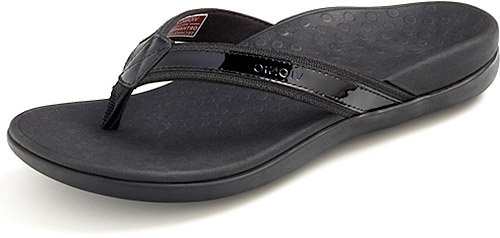 These best-selling sandals are from a leading brand in orthotic inserts and shoes. They combine a traditional flip-flop design with a supportive, cushioned footbed. Previous buyers loved the arch and heel support, which is much more prominent than on other flip flops. We particularly love how inconspicuous the added support is, which makes these sandals completely beach-friendly!
PROS:
They're designed by experts. Orthaheel is a company specifically devoted to the production of orthotic footwear. The manufacturer says that their designers and podiatrists have worked together to come up with an ergonomic, biomechanical design for the footbed. The shape of the footbed, along with the deepened heel cup, helps to alight and support your feet properly.
Many reviewers were pleased to find a supportive, orthotic option which still looked stylish. While there's no hiding the strong arch support, these have a sleek, streamlined design which won't look at all out of place on a fashionable boat party.
They really do relieve the pain. Previous buyers were quick to say that the extra cushion and proper support made their P.F. symptoms a thing of the past. Many said the soles felt like getting a walking massage!
CONS
The arch support is intense, and some people found it was too much for their feet. These aren't the best choice for people who aren't looking to correct low arches. They're better suited to people with high arches, or people who are looking to really correct fallen arches.
Some commented that they tend to run large.

These women's sandals have a sculpted orthotic footbed made from EVA foam and come in more than 36 style options. We like them because while most orthotic sandals can be fairly utilitarian, these are quite fashion-friendly and have plenty of options to choose from to match with any outfit. They're lightweight, comfortable, and very durable. Previous buyers had great results resolving their P.F. symptoms with the Yumi's!
PROS
The EVA footbed is compression-molded to provide total foot support. This includes deep heel-cupping, orthotic arch support, and a metatarsal dome. We like the EVA material because it won't wear out nearly as quickly as traditional foams.
There are lots of color and style options. From simple to snazzy, you're sure to find a pair that suits your style.
Reviewers agreed–they're effective and long-lasting. The EVA material doesn't fall apart, and the straps are nice and secure. That's particularly impressive given how short-lived many other flip-flops can be-even the more expensive podiatrist models.
CONS
Some reviewers thought that the molded footbed placed too much emphasis on arch support. Again, these are orthotic sandals, so there's more of a focus on correction than padding.
Others thought that the compressed foam didn't provide enough cushioning. They wished that the heel would have some more cushioning underneath the surface.
3. Olukai Men's Ohana Flip Flop

The Olukai Ohana's are a practical, simple solution for men with P.F. They've got a contoured footbed with strong arch support, and an elegant faux-leather strap. We like them because they're more cushioned than some of the other orthotic options. Previous buyers said they felt like wearing sneakers, which makes them a great choice for lots of summer walking!
PROS
The non-marking rubber outsole has added tread for traction on all surfaces and in wet environments. Reviewers said they were remarkably grippy.
The compression-molded EVA footbed is designed to support an anatomically correct foot shape. It's got strong arch support and a heel cup for better alignment. Plus, there's plenty of cushioning.
Previous buyers complimented the cushioning above all else, saying that the padding provided extra relief for their symptoms while their arches adjusted. In fact, they said that not only was the cushion more comfortable than other sandals, it was more comfortable than many shoes they had worn.
CONS
The size runs bigger than normal so some reviewers recommended ordering down by half a size.
A few reviewers said that that they had deteriorated sooner than expected, and the sole came unglued after long-term use.
One thing many buyers commented on was that this pair is quite pricey for flip-flops.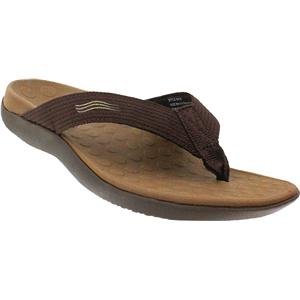 These American Podiatry Association-approved sandals come sized for both men and women. Made from durable rubber, they're clinically tested to help with plantar fasciitis. They're the safest bet for people with more severe symptoms.
PROS
The patterned-tread rubber outsole provides traction on most surfaces. Reviewers said they're also very good on wet surfaces and by the water.
They've won the American Podiatry Association Seal of Acceptance for being "clinically shown to help relieve common causes of plantar fasciitis- heel pain and knee pain- related to over pronation and flat feet." They have arch support and a strong heel cup, much like our other recommendations. However, these have been specially recognized by professional foot doctors!
Reviewers found that these sandals reduced knee and back pain as well as arch stress. That's because they have a slightly raised heel, which promotes better posture.
Buyers found they greatly helped the alignment of their feet. They saw noticeable changes in their pronation, as well as their P.F. and foot pain.
CONS
There's an adjustment period. Some reviewers said that they were odd or strange-feeling at first. However, most agreed that they corrected their foot problems and eventually felt more comfortable.
A few reviewers mentioned that the fabric on the strap was rough around the edges and felt scratchy. They recommended filing down the rougher bits to make the strap more comfortable.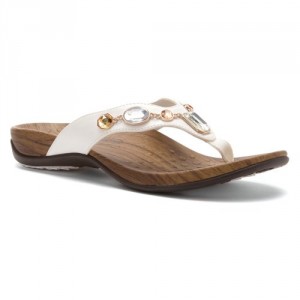 A fashionable option for women. They're comfortable but don't sacrifice looks. We like the decorative features and more stylish aesthetic, which certainly doesn't scream "therapeutic" from the outside! Previous buyers loved the stylish exterior, which totally masked the therapeutic sole!
PROS
They use Vionic's signature biomechanical footbed, featuring arch support and cushioning. The midsole is also flexible and shock-absorbent. The sole features deep heel cups for added stability. Reviewers agreed that the arch support and heel cups greatly reduced their discomfort and alleviated the pain from plantar fasciitis.
These come in a variety of colors and finishes, all of which have faux wood footbeds and jewel accents. Previous buyers loved having the option of black patent and bedazzled straps, without having to hobble around in pain for hours.
CONS
They're not very durable. A few reviewers said that the finish chipped after prolonged use. Several reviewers were disappointed with the plastic coating at such a high price.
Some buyers found that the sandal strap didn't allow enough height for their feet. This led to discomfort for people with thicker feet.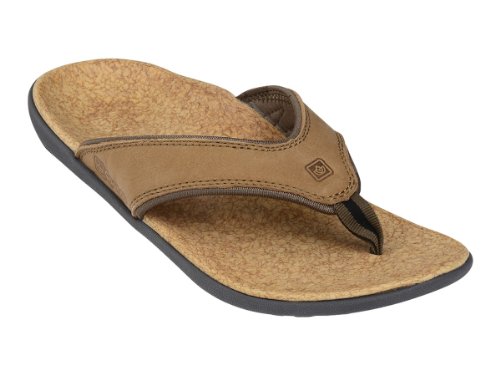 These low-profile sandals offer the feel of a normal flip flop with just enough support. They're made from a faux-cork, molded footbed, and have leather uppers for an elegant look. They're the lowest profile of our recommendations, and the best choice for people who aren't trying to correct their low arches–just alleviate P.F. pain.
PROS
The uppers are made from high-quality leather, backed by canvas. They come in a variety of brown and black finishes. Reviewers said that the leather stands up well and resists water damage.
Many reviewers complimented the Spenco Total Support Cushioning System. The sole provides a molded arch support, slight heel cup, and a metatarsal dome. There's also padding along the whole footbed.
With that said, these are less of an obtrusive orthotic than the others. They provide less severe support, which is great for people whose symptoms are aggravated by stronger arch and heel features.
People agreed they were durable and well-made. They were very impressed by the fact that the soles stayed wear-free, clean, and odor-free to boot!
CONS
The arch support is less severe than the Vionic's, so these won't work so well for people with the highest of arches.
The sole is slippery, especially on wet surfaces. The Yumi's don't have as much tread as the Ohana's or the Wave's.
Things to Think About
Support
The key to plantar fasciitis relief is good arch support. Look for sandals with a pronounced arch. Beyond that, many orthotic sandals have deeper soles, allowing for a heel cup. You might also find metatarsal domes in the soles. All of these features can help alleviate pressure as you walk. And, of course, you'll want some cushion. Look for sandals with EVA foam footbeds, or other padding to make walking more comfortable for you. One other place to look is the heel–a slightly raised heel will help your posture, and save all your joints, as well as your back. And yes, men, even you can benefit!
Style
You shouldn't have to sacrifice looks for comfort. Naturally, supportive sandals will have thicker soles. They won't look as sleek as normal flip flops. But there are plenty of options available that look refined, elegant, and stylish. Many models are available with leather straps or detailing. Synthetic options also come in a wide range of colors and finishes, and are a great way to have a fun style while still being waterproof.
Practicality
Depending on where you'll be going, you'll want different features from your sandals. If you'll be going on uneven terrain, you might want something with straps over your foot, instead of a flip-flop design. If you'll be near water, you may want something waterproof or at least water resistant. Leather sandals won't be so good for getting wet. And if you're walking on wet surfaces, you might also want to look for something with better traction.
Price
Some of our picks are quite expensive–they'll cost as much as a good pair of shoes. If you're not going to be wearing sandals for much of the year, you might want to think about one of the less expensive options. However, if you live in a warm area, or will be wearing sandals for a good portion of the year, it's probably worth investing in a really good pair. Think about how much time you'll be spending in your new sandals. And remember–it's worth paying a bit more for some really nice sandals that'll last you a long time.
Now, that you've seen some of your options for supportive, corrective sandals, which one should you choose? Well, it really depends on your needs; activities, lifestyle, etc.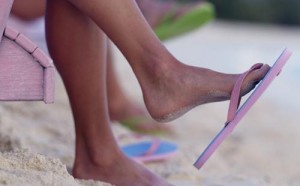 If you need a strong arch support and heavy cushioning, the Vionic Waves are available for both men and women. They're designed by podiatrists and are very popular among fellow plantar fasciitis sufferers. The Olukai Ohanas are also a great solution for men, mixing the comfort of an orthotic footbed with the practicality of strong tread and waterproof uppers. However, they're an investment. The Tide Slide-ins are a comparable choice for women. They've also got strong support and are sleek enough to blend in with non-orthotic sandals at the beach. If you need a milder solution or want something a little more low-profile, the Spenco Yumis for women provides the same support of the molded footbed with less added cushion. They're a bit closer to a normal flip-flop and come in lots of different looks. And for those in search of fashionable but practical sandals, the Spenco Yumi Leathers and the Vionic Eves are designed to provide a therapeutic feel without anyone noticing the difference from the outside.
If you're interested in more of our choices for the best shoes for plantar fasciitis available online, check out our other handy guides!