Last Updated on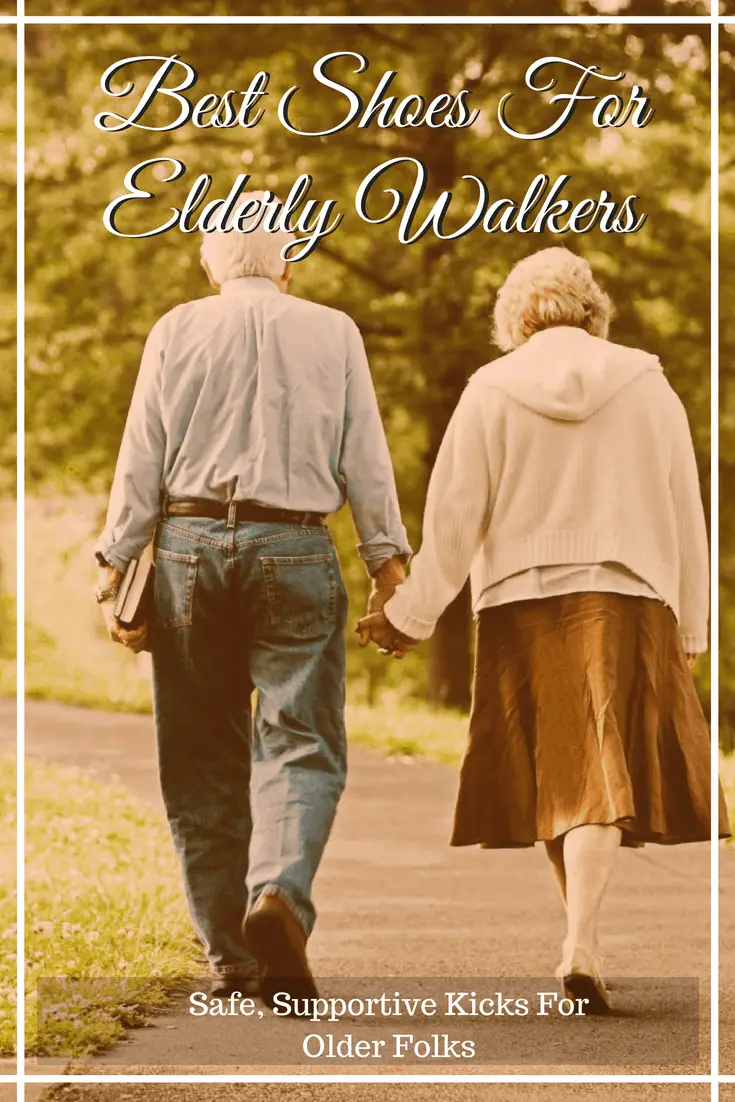 Just because you're getting older doesn't mean that you're ready to give up your attractive footwear just yet. There's a fine line between comfort and aesthetics, and sometimes it seems like all of the shoes that are aimed at older people are completely devoid of style.
While most older people would admit that their needs differ from younger buyers when it comes to footwear, it's still important to find shoes that tick all the boxes. It's key to find shoes which boast all of the key features that ensure comfort and support but which also are appealing.
Why

Do Older People Need Dedicated Walking Shoes?

Older people are now being encouraged to take more exercise and walking is one of the ways in which the elderly are being told to get fit. As we age, we are more prone to developing conditions like high blood pressure and diabetes which can be relieved by losing weight and taking more exercise.

It has been proven by expert studies that men and women who remain active into later life are healthier and live longer than those who adopt a more sedentary lifestyle.

When all of this is taken into account, it's no wonder that there is an increasing demand for attractive, supportive and comfortable shoes that are suitable for older walkers and meet all their changing needs.
How

Do Older Walkers' Needs Differ?

As we get older, our footwear needs start to change from those of younger buyers. While younger people are more about style and meeting the latest fashion trends, older walkers need shoes which help their joints, relieve pressure on problem areas and which offer more support and structure to improve stability while walking.

Older people have less fat on the soles of their feet which can lead to pressure, pain and sores, as the heel presses more against the surface causing irritation and heel spurs.

However, that doesn't mean that they want shoes that are ugly and unappealing. Staying comfortable and safe while still feeling good about their footwear is vital for any older walker.
How

To Choose Walking Shoes For Seniors

It's important not to underestimate how important a good quality pair of walking shoes is for older people who want to boost their exercise levels. When we get older we are more at risk of trips and falls, and therefore finding shoes which offer more stability is essential to limit the chance of injury. As we get older, our feet also changes shape, and problems such as flat feet and claw toes can develop. Finding shoes to accommodate those changes is important. Bunions and claw toes create more pressure which can then result in leg and foot pain. Finding footwear that has been designed with this in mind is essential.

When looking for the right pair of shoes for older walkers, it is important to find a pair that hugs the heel well to prevent slippage while walking, and which has ankle padding and a strong heel counter while still being flexible enough at the forefoot to enable easy bending and movement.

Knowing the type of arch you have is also important. Motion control shoes are good for over-pronators while under-pronators need thicker heels and flexible midsoles. Those who have normal arches should look for stable footwear.
Which

Are The Best Walking Shoes For Seniors?

Finding the right pair of walking shoes for seniors needn't be as difficult as it seems. These days, to cater for demand, there are many brands which have specialized in supplying comfortable yet appealing footwear that accommodates the older walker's unique needs.

Some of the best walking shoes for seniors are made by Hush Puppy.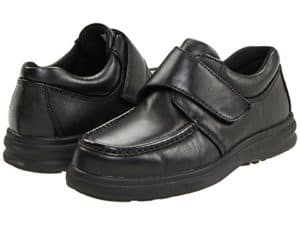 The Gil Slip-On is a great choice for men since it is extremely comfortable and the synthetic sole ensures great support while walking. The slip on design makes these shoes easy to take on and off and since the outer soles are very lightweight they aren't too heavy.
There is a removable EVA footbed for extra cushioning and the Strobel material ensures great flexibility. The heel is slightly higher than average at 1.25 inches while the padded collar ensures maximum ankle support and comfort. Adjusting the hook and loop straps is a breeze to obtain the perfect fit and with their shock absorbing soles, you'll feel like you're walking on air. Not only that, but they're attractive too and available in a wide choice of colors to suit every outfit.
For women, the Propet Life Walker Strap Shoe is a great choice.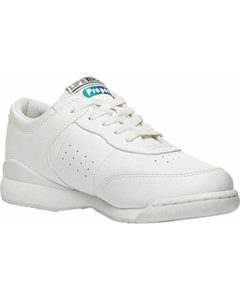 With a similar look to a traditional sneaker but offering a lot more convenience and support, these shoes have been designed with the walking needs of senior women in mind.
Easy to pull on and take off, these shoes feature easy to use Velcro straps so adjustment to suit the foot's width is a breeze. The shock absorbing midsole gives greater spring and comfort while the nylon lining wicks moisture to reduce sweating and rubbing. The tongue and collar are well padded to ensure maximum comfort and the insole is removable to accommodate customized orthotics if necessary.
Designed for those who do plenty of walking, these shoes have enhanced breathability thanks to the perforated uppers and the footbed is well padded for easy, smooth steps. Add to that the stylish and modern appearance, and they're the ideal shoes for a trip to the park or a walk along the seafront.
What's Next
There's no denying that if you make the right choice of footwear, you'll find that even though you're getting older you can still enjoy an active outdoor lifestyle. By choosing shoes which have been designed specifically with the needs of elderly walkers in mind, you can be confident that you will be picking footwear which is comfortable, supportive and easy to wear, and yet which won't look like you've headed out of the house wearing your slippers!
For more of our expert reviews and recommendations, check out our guide to the best walking shoes for all ages! Or, have a look at any of our other helpful buying guides for running shoes, work shoes, and more.