Last Updated on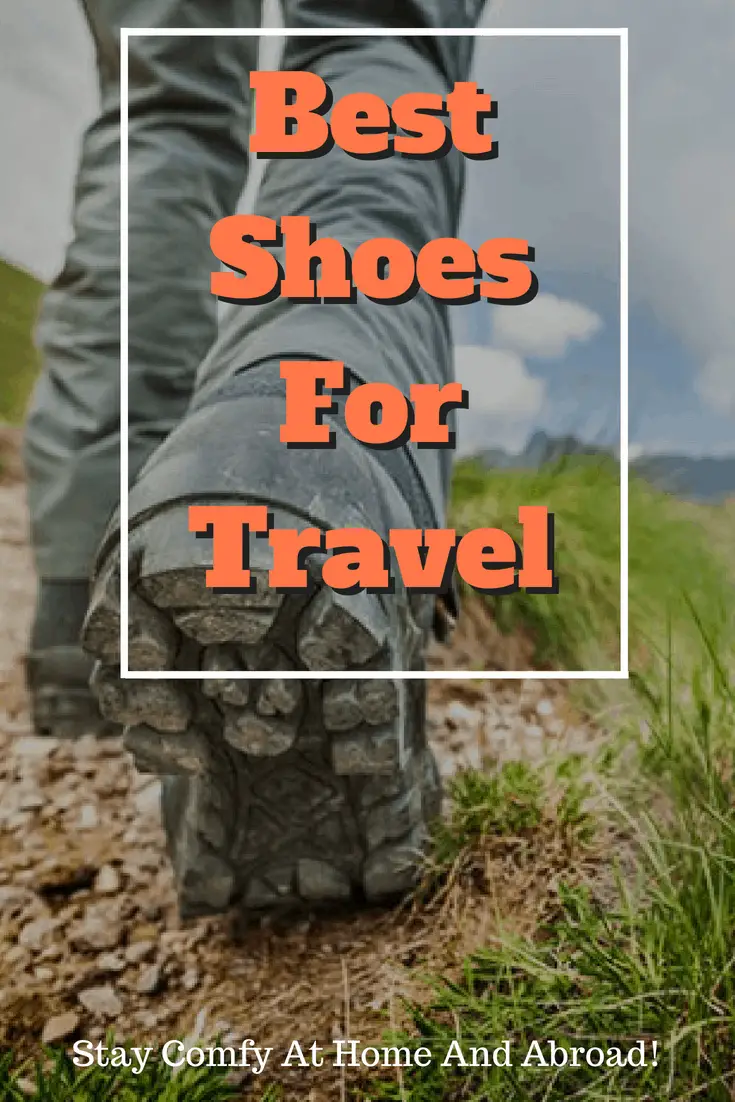 When you're going on vacation, the first thought on your mind probably isn't what you'll be wearing on your feet, but perhaps it should be. We tend to put more thought into what clothes we're going to wear than which shoes we're planning on packing, however if you get your footwear choices wrong you could easily find that your entire vacation feels the impact. Blisters and sore toes can put a serious crimp in your travel plans, and if you are limping around the tourist attractions you can't enjoy your trip to the max.
If you're in the middle of planning your next break, it's time to put some thought into your travel footwear so you can avoid making a costly fashion mistake! After all, you're paid a lot for your trip – you want to be certain that you can get the most out of it!
What To Consider When You're
Shopping
There are several factors to weigh up when you're planning your vacation footwear. Some of the main things you need to bear in mind when choosing your travel shoes are where in the world you will be visiting and what activities you're planning on doing when you get there. Will you be going to a hot and sunny beach resort or will it be cold and wet? Will you be participating in strenuous sporting activities or will you be spending most of your day relaxing by the pool with a good book? Will you be chilling out during the evenings or will you be heading out to dance the night away?
Whichever is the case for you, you need to make sure your footwear is up to the challenge of your itinerary. From picking the best hiking boots for an active vacation to selecting comfortable flip flops for walking on the sands, taking everything into consideration is essential to getting the choice right.
Another important element to bear in mind is the shape of your own foot. If you have very wide feet, this is something that must be taken into consideration when shopping, especially if you're planning on buying online. Many shoes are now available in a choice of widths, so finding the right footwear in the correct size for you will ensure that you don't jet off on vacation with shoes that will have you hobbling within the first day.
Don't Go Adventuring Without Comfortable Hiking
Boots
If you're planning on doing a lot of hiking and walking during your trip, hiking boots are the best choice. Designed specifically to cope with the demands of challenging terrain, they'll give your feet the support they need to stay stable on mountains and trough tracks.
Finding a pair with thick soles, durable uppers and plenty of support for your arches is key, and you probably want to consider waterproofing and breathability too.
There are some excellent brands of hiking boots which are affordable, durable and comfortable so you're sure to find a pair to meet your needs.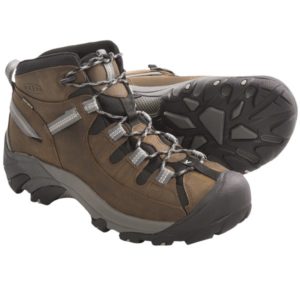 The Keen Targhee II's are ideal for those who are looking for ankle support without too much grip around the leg. With their low cut and easy lacing system they couldn't be simpler to put on and take off while their strong rubber soles offer impressive traction on all kinds of terrain.
What About
Sneakers?
If you aren't planning on participating in any serious strenuous activities but you still want comfortable shoes that will stand up to the challenge of sightseeing and exploring in traditional markets and rural villages, a pair of sneakers would be a good choice. Lightweight and easy to wear, you can wear them while traveling too, and their excellent breathability means your feet will stay cool even on the hottest days.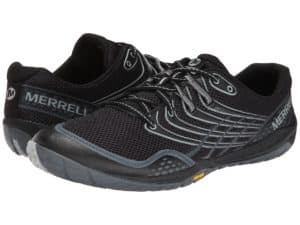 The Merrell Pace Glove trail running shoe is ideal thanks to its impressive ventilation which allows for excellent air flow around the food, it's easy-fastening design and its comfortable shape that gives the foot plenty of room to move.
days. You might think a technical style like this would be overkill, but it's nice to have the peace of mind to know you can go wherever the day takes you!
How About
Sandals?
If your vacation is mostly about walking on the beach, relaxing by the pool and enjoying a quiet stroll along the seafront, sandals or flip flops are the way to go. Allowing the air to circulate freely around your foot to prevent moisture and rubbing, sandals are cool, comfortable and easy to wear.
Flip flops are an ideal choice if you're wanting a really speedy dressing option while sandals that can easily transition from day to night are another clever idea. Although sneakers give you more support, they're just inconvenient when you have to tie laces, so finding a pair of slip on sandals will be great value for money.
Crocs tick all the boxes because of their waterproofing, which makes them the best poolside choice, and because of their comfortable slip on design, they couldn't be simpler to wear. Birkenstock's unisex sandals are also ideal since they have been designed with support and comfort in mind, allowing you to go effortlessly from the poolside to the town without worrying about durability or blisters.
Wrapping Up
Finding the right footwear isn't a one size fits all situation. Everyone has different needs when it comes to their vacation shoes, so it's important to keep in mind your own travel experience before you make a purchase. What works for one traveller won't work for another, so thinking carefully about everything you plan to do and where you plan to visit during your trip makes sense.
Whenever possible, opting for some multifunctional footwear is the best way forward as shoes can be very heavy and take up a lot of room in your suitcase. If you want to be sure that you won't be hit with an excess baggage charge, you should definitely consider keeping the number of pairs of shoes you take to an absolute minimum. Most people, if they're careful, can keep their travel footwear down to just a couple of pairs, leaving you more room to pack away those special souvenirs!
What's Next
For more of our expertise and advice, check out our other buying guides! If you suffer from plantar fasciitis, and are trying to avoid symptoms on your travels, our guide to the best footwear for P.F. should be right up your alley.