Running is not just good for the body, but also the mind. For you to get the most from every run, it is crucial to have the right shoes. As more people turn away from the bulky and heavily-cushioned running shoes, which were once very popular, the lightweight models are becoming the new darling for the road.
Whether you want to go for a light jog in the neighborhood, train well for the next race, or challenge yourself on the forest trail, one must-have thing is a lightweight pair of running shoes. They offer excellent breathability, better protection, form correction, and help to enhance speed.
However, selecting the right lightweight shoes can be challenging because of the large number of brands out there. We thought about that too and reviewed the best lightweight running shoes in the market. Keep reading to identify the perfect piece for you.
The Best Lightweight Running Shoes Are…
Product
Details

1. New Balance Men's Fresh Foam Zante Pursuit V1

Weight: 208 grams
Drop: 6mm
Midsole: Single-piece foam

Check Current Price

2. Sketchers Women's Go Run Razor

Weight: 173 grams
Drop: 4mm
Outsole: Rubber

Check Current Price

3. Adidas Men's Ultraboost All Terrain Running Shoe

Weight: 340 grams
Drop: 10 mm
Outsole: Continental rubber

Check Current Price

4. Nike Air VaporMax FlyKnit 2

Weight: 255 grams
Drop: 10mm
Sole: Rubber with air-pods

Check Current Price

5. HOKA ONE ONE MEN'S Cavu Running Shoe

Weight: 195 grams
Drop: 6mm
Outsole: rubber

Check Current Price

6. Saucony Kinvara 11 Running Shoes

Weight: 200 grams
Drop: 4mm
Sole: Rubber

Check Current Price
Starting out our list is one of the strongest contenders for the leading lightweight shoe in the market, the New Balance Men's Fresh Foam Zante Pursuit V. It is super comfortable, and we agree with athletes that if you want to run faster, this is the shoe to buy.
The shoe is designed with a very soft insole that helps to soothe your foot, making you feel comfortable from the starting to the finishing line. In addition to the soft insole, we found that parts of this shoe are designed with lightweight material.
The upper is carefully meshed to help keep the shoe light and allow the air to move through easily. The mesh, together with a bootie design makes the shoe to feel like a second skin — so natural, so comfortable.
The midsole of the shoe is designed using a single-piece foam that works together for excellent support when running. We really liked the shoe because even with these top-rated features, it is sold affordably.
Specs
Weight: 208 grams
Drop: 6mm
Midsole: Single-piece foam
Pros
Superlight construction
Meshed upper part for weight reduction and breathability
Available in different colors
Affordable
Durable
Cons
Not the best for trail running
This Women Go Run Razor is another premium lightweight running shoe from Sketchers. Like our first pick, the shoe is crafted with carefully researched features that make running faster, easy, and enjoyable. For ladies who want to get more, say running faster or longer, this is one shoe that can help you achieve the goal with ease.
The upper part of the shoe is done with durable and translucent ripstop mesh for enhanced breathability and support. The non-stretch upper is also light and firmly holds your foot with the pressure-reducing speed lacing system for additional comfort.
The midsole is designed with HYPER BURST, a new type of midsole foam made using SuperCritical process to keep it super light. Also, the midsole is durable and highly responsive, allowing it to respond fast after a contraction to support every stress.
The bottom/midsole of the shoe is done with strong rubber for extra durability and traction. Although the lugs are not large, the treads are firm, and we found the shoe very effective for street running.
Specs
Weight: 173 grams
Drop: 4mm
Outsole: Rubber
Pros
Designed specifically to help women run faster
A carefully done upper part for enhanced breathability
Very light
Extra comfortable to help you run faster
Durable
Cons
Not recommended for running on wet surfaces
Next on our list is this Adidas Men's Ultraboost All Terrain Running Shoe, a premium piece designed to guarantee you five-star performance no matter the terrain. The shoe is designed with top-of-the-range features that make running easy and firm.
Simply put – no rough terrain or bad weather can stop your run if you have this shoe. The outsole of the shoe is designed with Continental rubber, the same material used to design car tires, implying it is tough and very strong. Furthermore, the shoe features firmly cut treads that make it easy to run, whether in slippery paving or rough trails.
Another awe-inspiring thing about the shoe is the responsive midsole cushioning. We liked it because it responds with as much energy as you press it with your foot, thanks to the springy EVA foam and boost technology. Most athletes find the shoe squishy, making them want to run faster and more.
The upper section of the shoe is designed with water-repellent material that helps to prevent water from getting to your feet when running in wet areas. Furthermore, it features a high collar that provides additional protection from the elements.
Specs
Weight: 340 grams
Drop: 10 mm
Outsole: Continental rubber
Pros
Waterproof upper part and high-collar to protect the foot from water and other elements
Responsive cushioning to keep you comfortable and energized
Tough outsole with firm treads that makes it easy to run easily even in slippery facilities
Cons
Expensive
Some athletes complain that the cushioning is too much.
With dozens of rave-worthy lightweight models, it is never easy to pick one or several of Nike's running shoes, but this Nike Air VaporMax FlyKnit 2 is difficult to beat, both at Nike and in the market. Weighing just 255 grams, this show is pretty light and uses the latest technology to help you run faster and more efficiently.
The shoe reflects decades of innovation at Nike, which culminated with the latest technology, including a full-length 360-degree Air Unit and a Flyknit upper that help keep your feet well aerated and shoe light. It also uses the flywire technology that hugs the foot, helping to keep it stable and firm when running.
Another outstanding feature of this shoe is the Air-Sole, a revolutionary innovation that has made people start reconsidering what the ideal outsole should be. The rubber sole contains pods of air, making it super light for runners.
Furthermore, it is designed with large lugs, and each of them rocks smaller studs that make the shoe a perfect piece for running in all weather conditions.
Specs
Weight: 255 grams
Drop: 10mm
Sole: Rubber with air-pods
Pros
Designed using Air-Sole technology on the outsole to make it light
Uses Flyknit upper and enhanced cushioning for better comfort
Double lugs on the outsole for a better grip
Tough and durable
This Hoka One One Cavu is another premium yet simple shoe that never disappoints on the road. We found it remarkably versatile, allowing you to use it in different settings. Sure, it is designed for road running, but the carefully done cushioning and reinforcements make it equally effective for running in different terrains.
The shoe is designed with moderate cushioning that makes it a perfect piece if you are looking forward to shifting to minimalist shoes ultimately. The moderate cushioning allows you to feel more natural and keep the shoe light, meaning you can run faster and enjoy every moment.
If you are running in the streets or simply want to jog for fitness, this will be a great shoe to go for. The upper part of the shoe is carefully meshed and easily allows air to pass through, keeping your feet fresh even during long races. In addition, the shoe is strong and durable to ensure you enjoy both good performance and high-value for money.
Specs
Weight: 195 grams
Drop: 6mm
Outsole: rubber
Pros
Designed with moderate cushioning to keep it light
A great piece for racing in the streets and pavements
Comes with a meshed upper part for enhanced breathability
Stylish look
Rubber outsole
Cons
Might leak when running in wet conditions
The last shoe on our leading lightweight running shoes is this Kinvara 11 from Saucony. It is a lightweight shoe designed to make running easy, fun, and rewarding. If you are a lady looking forward to running faster and breaking personal barriers, this is the shoe to go for.
The running sneakers use Saucony's proprietary PWRRUN midsoles that are 28% lighter compared to the EVA model. Furthermore, the insole is also more durable to allow you to continue enjoying the comfort for a longer period.
The footbed design is also awesome and is engineered to take the shape of your foot for greater comfort. The footbed works well with the rubber outsoles to help provide a perfect transition from landing to takeoff, resulting in faster runs.
To help keep your feet feeling fresh, the shoe's upper part is designed using a meshed and synthetic material that allows air to circulate easily. Furthermore, it hugs the feet well, and running will feel natural and enjoyable all the way.
Specs
Weight: 200 grams
Drop: 4mm
Sole: Rubber
Pros
Designed with Saucony's proprietary PWRRUN midsoles that make the shoes lighter and more comfortable
Transition with the shoe is easy
Comes in twelve different colors
Meshed upper part makes breathing easy
Durable
Cons
Not very effective for trail running
Buying Guide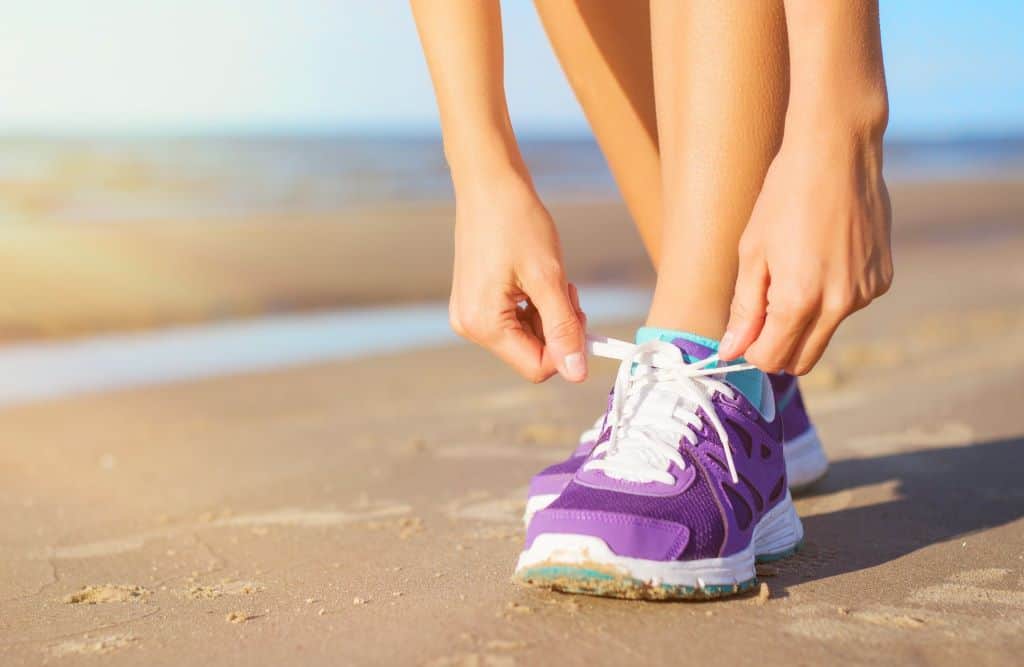 Now that we have reviewed the best lightweight shoes for running, the next question might be, "How do I pick the one?" Here is our guide on how to select the right shoe.
The Science Behind Lightweight Shoes
The appeal of lightweight shoes is rooted in enhanced running performance. Many shoe brands are refining their lightweight shoes for running through scientific analysis of gait and strides. These brands use impact measuring devices and making shoes that promote natural form instead of seeking to correct it.
To achieve this objective, most lightweight shoes are crafted with lighter materials, reduced drop platforms, and flexible knit uppers.
Weight
As the name suggests, the primary factor when selecting lightweight shoes is "weight." Studies done on sneakers found that shoes that are lighter help people to run faster. However, remember that they should be lightweight shoes that do not pain, so also ensure that the selected model does not cause pinch.
To achieve this goal, most of the shoe's parts are designed with superlight materials, such as gel/foam midsole, meshed upper part, and rubber outsole.
Fit
A good lightweight running shoe should fit you perfectly well and never squeeze your toe. So, go for the model with a roomy toe box and fitting the upper part. Some lightweight shoes are even designed with stretchy upper parts, making them effectively hug your feet for a comfortable and natural feel.
The Arch
The best lightweight running shoe is the model that easily cradles and supports the arch. So, start by understanding the three types of arches — low, high, and neutral. A low arch makes your foot roll inward, while a high arch mainly results in underpronation.
However, if you have a neutral arch, it collapses inwards, absorbing the impact as you run.
Final Thoughts
To run faster, more comfortably, and enjoy every moment of your training or competitions, it is prudent to go for the best shoes. The lightweight running shoes we have reviewed in this post have top-rated features, such as super-light midsoles, meshed uppers, and rubber outsoles. Furthermore, the shoes are designed by top brands and have a wide price range.
While we stand with the six best lightweight running shoes (they are awesome, really awesome), the New Balance Men's Fresh Foam Zante Pursuit V1 was the best of them all. It rocks advanced features that do not just make it light, but also comfortable, allowing you to run faster.