For those with plantar fasciitis, finding the proper foot wear is crucial. The pain associated with this condition ranges from annoying to unbearable, but there are ways to counteract the pain associated with plantar fasciitis.
Finding running shoes with good support is very important, but how do you know which shoe is right for you? Check out our list of the most important factors to consider when selecting your new pair of shoes for plantar fasciitis.
ASICS is a leading name in footwear, and they have become known for their high quality, fully supportive running shoes, like the ASICS Gel-Noosa Tri 8 Running Shoe, which happens to be our favorite running shoe for those with plantar fasciitis.
The Benefits Of The ASICS Gel-Noosa Tri 8
Before we get into how great this shoe feels, let's talk about appearance. The ASICS Gel-Noosa Tri 8 is one of the most attractive running shoes we've ever seen.
It's available in four different patterns/color combinations that we really appreciate.
Finding the proper shoes for plantar fasciitis can be difficult, and a lot of the options out there aren't very pleasing to the eye. However, these shoes look amazing.
Those with plantar fasciitis know that it isn't all about looks though. This shoe won't let you down in comfort and support either. Featuring a WET GRIP outsole that allows you to maintain your balance and grip on any surface, the ASICS Gel-Noosa Tri 8 is great for runners and walkers alike.
These shoes are lightweight and feature a perforated sockliner and open mesh upper to keep feet cool and dry even in the hottest weather.
The ASICS Gel-Noosa Tri 8 includes ASICS's DuoMax Support System that works wonders to keep you comfortable even when you're on your feet all day.
What Do Owners Say About The ASICS Gel-Noosa Tri 8 Running Shoes?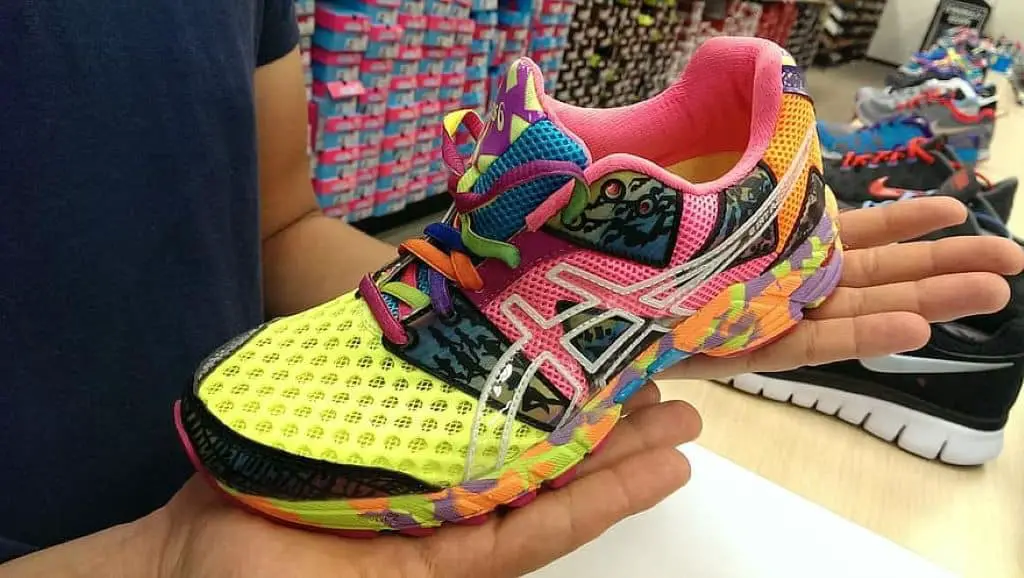 These running shoes have received very high reviews from owners, however, reviewers do recommend to go up a half size when ordering, as these shoes run a bit small. Some women have commented that these shoes run narrow as well.
Reviewers are raving about how lightweight the ASICS Gel-Noosa Tri 8 Running Shoes are, adding that it makes running and walking much easier without having to carry the extra load of a heavy shoe.
Women love the bright colors and patterns; some have even stated that it makes them want to run even more.
Some previous buyers wrote that they were using these as work shoes for jobs that required them to be on their feet all day.
They said that these shoes allowed them to work pain-free, without having to limp or favor any part of their feet as the hours went by.
Conclusion
If you're suffering from plantar fasciitis, exercise is important. Sometimes caused by obesity, exercise is a great way to combat this condition.
The ASICS Gel-Noosa Tri 8 can help you to get back on your feet without experiencing the regular pain of plantar fasciitis.