It may come as a surprise to many that there are specialized shoes for walking. Most of us have one shoe that we use for running and walking. However, each of these activities will affect your body differently, so it's necessary to have the proper shoes to prevent discomfort and long term injuries.
Running, as you can imagine, is more intense than walking. It has more impact on your joints and feet as your body absorbs 2 to 3 times your body weight with each stride. In contrast, walking produces less impact on your joints because as one foot leaves the ground, the other one is touching it, which helps to distribute your weight evenly.
What all this means is that you'll need to have the proper shoes for whichever activity you choose to do. To help you figure out which one you need, we'll review the differences between running shoes vs walking shoes below.
Running vs Walking Shoe Reviews
The New Balance 877 Men's walking shoes feature the Walking Strike Path technology to guide the natural heel to toe rolling of the foot for stability. It is a durable shoe with a stylish design that matches both your athletic and casual wear.
What We Like
The MW877 features a generous toe-box that can accommodate custom orthotics and helps alleviate various foot conditions such as plantar fasciitis. It has a comfortable midsole that's removable, which allows you to replace it with more padding. The rubber outsole provides reliable traction and stability that guides your foot through the walking motion.
What We Don't Like
Walking shoes should generally be flexible to enable your foot roll through the walking motion easily. However, some users have noted the MW877 is stiff, which caused foot fatigue.
Pros
Generous and airy toe-box
Removable midsole allows for replacing with custom orthotics
Comfortable shoes for daily walks
Lightweight and airy mesh and suede upper
Reflective for low light conditions
Cons
Not comfortable for prolonged standing
Absorbs water in wet conditions
Most users love the generous toe-box and the stability that the shoe offers. However, they are also a bit stiff, which can quickly tire your feet if you're always on your feet.
Overall Rating – 4.4/5
These lightweight walking shoes are for women who need all-day comfort in their shoes. Featuring a colorful breathable mesh upper, cushioned midsoles with a contoured footbed that provides support and comfort for prolonged walking and standing.
What We Like
The shoe's Anatomical Precise-Return insole provides a firm base for the cushioned RE-ZORB foam full-length midsole and underfoot pods. This combination will provide the best support for comfortable walking by reducing pressure under the heel and forefoot.
What We Don't Like
The shoes, unfortunately, have a short life span. One user noted that it took her only three months to wear out the outsoles down to the foam pods between the midsoles and outsoles.
Pros
Wide variety of attractive colors
Lightweight and comfortable
The contoured footbed provides excellent arch support
Radiused skeletal rubber outsole provides extra cushioning
Great for flat feet and plantar fasciitis conditions
Cons
The outsole has low durability
Cushioned midsoles wear down quickly
The Devotion Plus 2 is highly rated for its comfort and support and is quite popular with women who are on their feet for long hours and who walk for fitness.
Overall Rating – 4.3/5
Ghost 13 is the latest addition to the Brooks Ghost series and it features major updates from the Ghost 12 in the mesh upper and the midsole cushioning. Ghost 13 is a neutral running shoe that is suitable for daily fitness runs, marathon running, and performance walkers.
What We Like
The Ghost 13 features a breathable mesh upper that helps to fit your foot snuggly inside the generous toe-box. You can get the shoe in various widths and most users also appreciate how well ventilated the mesh upper is. The shoe combines its BioMoGo DNA foam insole with its DNA LOFT EVA midsole to deliver the smoothest and most responsive ride of the entire Ghost series.
What We Don't Like
The rubber outsole delivers excellent traction and is thick and flexible for soft landings. However, it wears out quickly, faster than most users expected for this shoe.
Pros
Smooth and comfortable underfoot cushioning
Excellent traction and flexibility from the outsole
A highly breathable upper mesh
Generously wide and tall toe-box
Comfortable and snug-fitting
Cons
The outsole has poor durability
Poor arch support
Ghost 13 is a comfortable trainer for daily runs and marathons. It offers excellent cushioning and a well ventilated and generous interior for a comfortable running experience.
Overall Rating – 4.7/5
Metaride is a maximalist running shoe designed to deliver efficiency in long-distance running. It's one of the most advanced running shoes from Asics, in the same league with the Nike Vaporfly and the Hoka One One Carbon X. It features a high 30mm zero-drop stack with a rigid outsole and a rocker profile that helps to propel you forward.
What We Like
The combination of dual Flytefoam midsoles and Gel technology at the rearfoot helps to deliver a soft landing and smooth transition. The foam works together with the shoe's rocker design that rolls your foot forward, making your strides more efficient.
What We Don't Like
The shoes feel slightly heavier due to the high stack and rigid outsole. It also offers very little arch support and support for overpronators. The rocker design works naturally on flat surfaces but not when running uphill. It also takes a while to get used to, especially at a slow pace.
Pros
Breathable and stretchy mesh upper
Firm heel lockdown and snug fitting
The outsole provides good traction
Superior cushioning provides a smooth ride
Cons
Expensive
Zero arch support
The Asics Metaride is an attractive looking shoe that offers a smoother, more comfortable ride. Its rocker design helps improve the efficiency of your running, up to a certain pace, beyond which the shoes become uncomfortable.
Overall Rating – 4.6/5
Walking Shoes vs Running Shoes: Important Features to Consider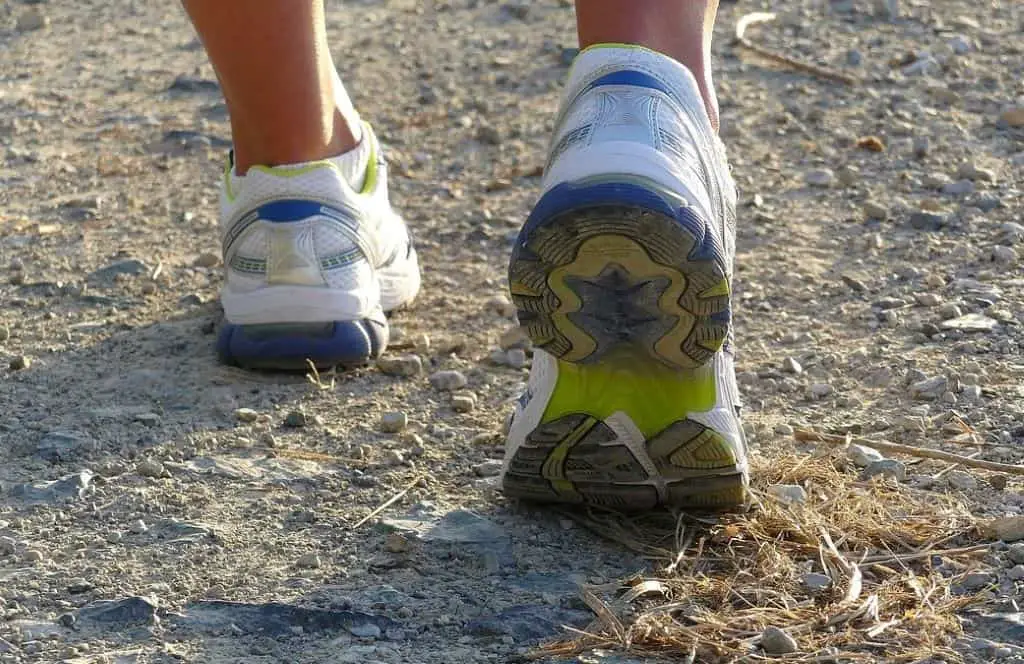 Running and walking are both great ways to keep fit for good health. While there are different features you need, these are the main features you need to look out for to help you decide whether to buy running vs walking shoes.
Cushioning
Running shoes have a thicker cushioning at the heel and forefoot that helps to absorb the high impact caused by running. Walking delivers less impact to the joints, so these shoes have a thinner and firmer insole that supports the heel to toe motion of walking.
Heel Stack
Running shoes have a thicker heel that helps to provide stability and extra cushioning. The difference in height between the heel and the toe is known as the heel drop, and most running shoes will have a heel drop of 10mm. Walking shoes, in contrast, have a low heel drop at 4mm or none at all.
It is because your foot rotates far less when walking with the impact more evenly distributed. A flat heel provides a more natural gait and better arch support.
Flexibility
Running shoes generally have outsoles that flex in the midfoot area while walking shoes will flex at the forefoot section where the foot pushes off.
Stability running shoes usually have a stiff outsole that helps to guide the foot into a more neutral gait.
Main Differences Between Running Shoes vs Walking Shoes
The main differences between running shoes vs walking shoes are:
Running shoes have more cushioning to absorb impact at the heels and forefoot, whereas walking shoes have less cushioned midsole with better arch support.
Most running shoes will have a heel to toe drop that provides stability for the different foot strikers, whereas walking shoes have a lower heel drop to accommodate the rolling of the foot.
Running shoes are lightweight to help runners move faster with less drag, whereas walking shoes tend to be a bit heavier
Running shoes feature a breathable mesh to keep them aerated, whereas walking shoes don't allow for much breathability.
Running shoes have a stiffer outsole with deep lugs for more traction, whereas walking shoes have a smoother outsole with less traction.
Running shoes are often flexible in the midfoot or arch where the cushioning is thin, whereas walking shoes flex in the forefoot to support the heel to toe range of motion.
Finally, most running shoes offer stability features to keep the rotation of your foot more natural, whereas walking shoes will provide less motion control because it is not as necessary.
Final Thoughts
A good quality shoe should give you service for up to 300 miles, and most people change their shoes after about six months, at which point the soles will have begun to wear out.
Most walking shoes like the New Balance MW877  have a design aesthetic that allows them to be both athletic shoes and casual wear shoes. It's a good option for people who work on their feet for long hours and for walking.
Our top running shoe, Brooks Ghost 13, is the latest from this line and is a favorite because it accommodates the comfort and support needs of most runners.
Although many people prefer to have one shoe for all their needs, we hope you can now see the benefits of getting a shoe specific to your needs. We'd love to hear your thoughts, let us know in the comments section below.