Sneakers, as a term, can refer to most sports shoes as well as other forms of casual wear shoes with rubber soles. Running shoes, on the other hand, refer to athletic shoes designed specifically for running. J.W. Foster and Sons, now known as Reebok, developed the earliest form of the running shoes in the late 1890s, which they sold quite successfully to athletes around the world.
Their handmade running shoes featured spiked outsoles, which improved the traction of the shoe and helped the athletes run faster. These spiked shoes created a distinction between running shoes and all other sports shoes that everyone referred to as sneakers.
At the same time in America, the development of rubber-soled shoes and the growing prominence of sports created a new market for specialized athletic footwear for individual sports like basketball and tennis. Fast forward to the 1970s, and athletic shoes, generally known as sneakers, have gained a foothold in the casual wear market.
In modern times, sneakers are as much of a fashion statement as they are sports shoes. In this article, we look at the subtle differences between sneakers vs running shoes to help you understand the difference when buying.
Running Shoes Vs Sneakers Product Comparisons
If you're looking for an all-rounded lifestyle sneaker, the Energy Afterburn is a great choice. Wear it for work, fashion, or training seamlessly. It features a cushioned EVA midsole that allows for impact absorption when running and a non-slip outsole to provides excellent traction.  Its smooth leather upper gives it a versatile style that works well for casual wear and sporting activities.
The Energy Afterburn features a lace-up structure that allows a custom fitting for everyone. We love the soft leather upper that allows easy cleaning and provides excellent foot protection.  Its lightweight and durable design give it a comfortable feel for all-day wear.
These Sketchers feature a chunky design that is classic of the 90s style, which is great for fashion, but it limits the variety of dressing outfits you can pair with them. The sneakers also feel stiff, and some users have noted that it lacks sufficient arch support to reduce fatigue when standing for long periods.
Pros
The outsole provides excellent traction
Easy to clean leather upper
Multipurpose for sports and casual wear
Lightweight and comfortable for walking
It's affordable
Cons
Poor arch support
Feels stiff and needs breaking in
The sneakers are good looking and are well-priced for a multipurpose shoe. The insoles provide a more firm base than a cushioned one that is better for walking than running.
Overall Rating – 4.7/5
The Grand Court Sneaker is an updated style of the classic Adidas tennis shoes that were all the rave in the late 60s and 70s. Since then, Adidas has developed design variations of their original classics, with the Grand Court being their newest addition.
The Grand Court sneaker features the timeless and iconic look of the classic tennis shoe. Its simple style makes it a very versatile fashion item, from casual wear to the more serious formal look. The men's sneakers are available in shades of grey, white, and black for formal and casual wear.
The women's shoes have a wider spectrum of color that allows for versatility in the choice of dressing. Although Adidas has indicated that the shoes are true to size, some users have noted that they run big, and the heel doesn't lock in securely unless you tighten the laces.
Pros
Simple yet timeless design
Fashionable colors to choose from
Cushioned midsole for long walks
Versatile and stylish for lifestyle wear
Cons
Shoes run big for some wearers
Retains warmth and moisture
Loose heel grip and poor support
The timeless vintage style of these sneakers gives them the versatility to pair them with almost any dressing code. They're also excellent shoes for long walks.
Overall Rating – 4.7/5
The Charged Assert 8 is a highly rated road running shoe that is also easy for casual wear. It's a neutral running shoe designed for heel strikers. It features a highly responsive Charged Cushioning system that ensures maximum impact absorption and improved energy return.
The flexible outsole combines solid rubber on high impact areas and ground contact foam on the medial side to increase traction. The charged Assert 8 has a comfortable construction for daily training with excellent midsole padding and rubber outsoles.
The style of the shoe also allows for casual and daily wear for people who are always on their feet. The upper mesh fits too snuggly at the toe box that it scratches your toes. There is little padding at the collar and back lip of the shoe that has given some users blisters.
Pros
Breathable mesh upper provides excellent moisture prevention
The outsole provides excellent traction
Well padded heel for heel strikers
Spacious toe box
Cons
Poor durability
Midsole wears out quickly
The Charged Assert 8 is a budget-priced running shoe for everyday training. However, it can be a little stiff for long runs.
Overall Rating – 4.6/5
The Gel-Venture 7 is a high-performance trail running shoe that delivers comfort and stability for trail running. It features the proprietary ASICS GEL technology in the rearfoot area for reduced impact for heel strikers. EVA midsoles provide extra padding that is both comfortable and firm for rugged terrain.
Firm insole with extra padding at the heel with EVA midsole providing the extra cushioning at the forefoot to give you stability over the uneven terrain. The internal heel counter enables proper heel lockdown and support to help you maintain your natural gait while running.
A narrow toe-box doesn't offer much space for your toes while running for long miles. The shoes run small, and the lacing structure is loose for a firm fitting. The midsole cushioning is inadequate and may cause fatigue if your run is long.
Pros
Removable and replaceable midsoles
Lightweight and durable
Comfortable with excellent arch support
Good stability and heel cushioning
Cons
Narrow toe-box
Flimsy laces with a loose-fitting
Firm shoes give you quick foot fatigue
The Gel-Venture 7 is a great looking shoe with excellent features for trail running. However, they could improve slightly on the midsole cushioning to allow extended wearing without fatigue.
Overall Rating – 4.5/5
Sneakers Vs Running Shoes: A Guide For Choosing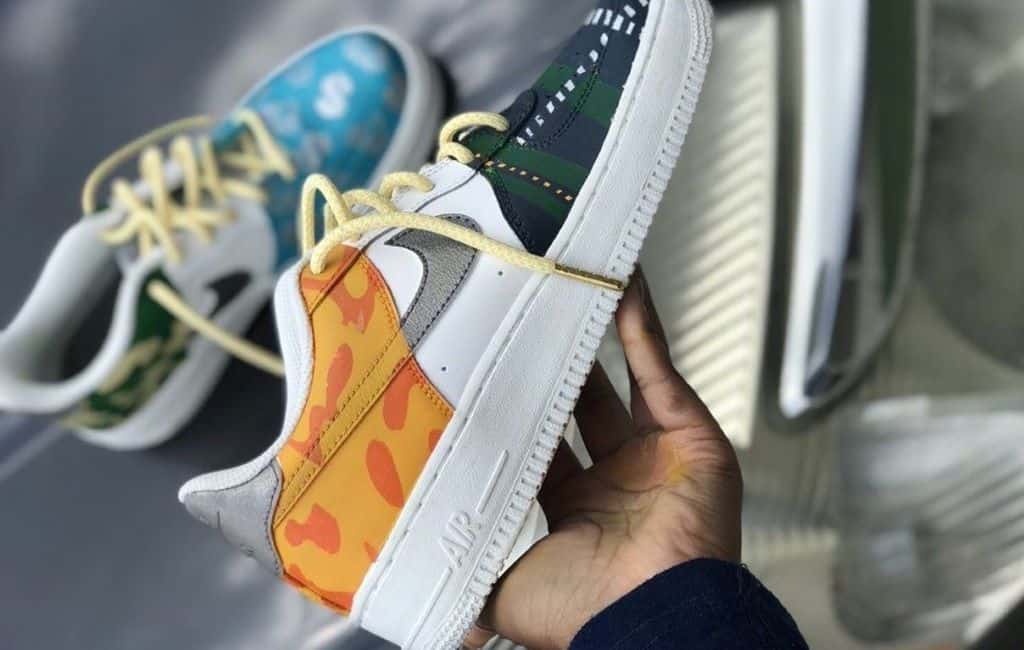 There are not many people who would be able to differentiate between sneakers vs running shoes. That's because they're so similar just by looking at them. However, when it comes to function, there are subtle differences between them that can help you choose the best shoe for your needs.
Running Shoes
The first thing you should consider when getting running shoes is the midsole. It will determine how long you can run in those shoes without your feet getting tired. A thick midsole will offer better comfort for long runs and marathons, while a thinner one provides better stability for running trails and walking.
Running shoes have a breathable upper, which helps to aerate your feet and keep them cool during your runs. Their outsoles feature deep lugs for traction, with most shoes having combination rubber for durability and added impact absorption.
Sneakers
Sneakers are a little different than running shoes in that they're multipurpose. The lack of support makes sneakers more suitable for walking and crosstraining than they are for running. Sneakers have a moderately cushioned midsole that makes them easier to walk in. The outsole is smoother with a low heel to toe drop as the heel and toe sections are equally padded.
For style and casual wear, the sneaker uppers are made of a variety of materials such as leather and canvas. These materials are less breathable than mesh making the shoes warm inside.
Main Differences Between Running Shoes vs Sneakers
The main differences between running shoes vs sneakers are:
Running shoes have a more defined outsole that combines two different types of rubber with lugs for traction, whereas sneakers have a smoother outsole
Running shoes have a thick cushioned midsole to improve comfort while running, whereas sneakers have a firmer midsole.
Running shoes offer stability to support your foot pronation as you run, whereas sneakers will support neutral pronation
Running shoes feature an engineered mesh upper that allows for air circulation to help manage the moisture from sweating. Sneakers, on the other hand, have leather or canvas uppers depending on the design and style.
Running shoes are specific to athletics, whereas sneakers are multipurpose. They can be sports shoes and at the same time casual wear.
Sneakers can go by a variety of other names such as trainers, tennis shoes, takkies, track shoes, canvas shoes, among many others. So, while you can refer to your running shoes as sneakers, not all sneakers can be called running shoes.
Final Thoughts
We've seen that running shoes and sneakers are more or less similar in structure but with subtle differences to set them apart. Many athletes will tell you that sneakers offer almost zero support for running comfortably.
But, with a choice like the Sketchers Energy Afterburn Lace-Up Sneakers, you get a good option for gym workouts and casual day wear. For running, try an affordable running shoe like the Under Armour Charged Assert 8 Running Shoe, which is an excellent option for your daily training.