The Zumba craze is sweeping the nation and even the globe! The popular dance fitness phenomenon has all sorts of people hitting the gym for a fast-paced, funky workout which combines agility training with a blast of cardio.
If you've been to even one Zumba class, though, you'll know how important it is to have the right footwear.
Proper shoes can keep you dancing for hours, feeling light and refreshed. The wrong ones can wreck your body and leave you aching for days!
We know it can be a real struggle to figure out exactly which ones you need for Zumba, especially if you're just beginning your dance fitness journey.
Traditional dance sneakers are too thin to be much use for Zumba. They don't have enough cushion or support to keep you comfortable over an hour of funky cardio.
On the other hand, your average athletic sneakers are too wobbly and heavy, since they have so much cushion. Plus, they grip too much to allow you to dance freely on a Zumba floor.
We've put this guide together to help you find the best Zumba options on the market right now!
We've looked at all sorts of options, from traditional dance options to hip hop dance shoes, to cross-trainers to find the absolute best footwear for your dance fitness class.
The best Zumba shoes are light and flexible like dance shoes, but with the stability and support of a good athletic shoe.
We've chosen a few of our favorites to show you in this guide! Our recommendations suit a whole range of styles and budgets, but they all have one thing in common: they're amazing on the Zumba floor!
The Best Zumba Shoes Are…
Our most budget-friendly recommendation is a full-fledged Zumba star, even if it's priced with gimmicky cheap dance shoes!
It's made by the Zumba company themselves. That's a pretty great pedigree for any footwear to have, especially at this price!
We like the Fly Prints because they have all the key elements of a great Zumba shoe at a bargain price: they turn easily, they're breathable, and they ride nice and low to the ground.
We think they make an excellent pair for people who are starting out in Zumba, or dancers on a very tight budget.
Pros
It's designed by the people who created Zumba. The Fly Print couldn't come from a more ideal design team than the people who came up with the moves and grooves of the Zumba class itself! You can see the connection between the dance moves and the shoe design in a number of key features:
It has a "Z-slide" sole, which provides plenty of freedom on dance floors without feeling slippery. Previous buyers said they noticed a big drop in resistance when they switched to the Fly Print from other sneakers.
They work well on wood and synthetic floors alike.
The upper is made from a breathable mesh material. It provides plenty of ventilation over the course of a hot, sweaty class. Plus, mesh has ample flexibility to move with you. Previous buyers said this model fit like a sock, and moved very easily with them.
A special foam material in the sole provides cushion without boosting weight or bulk. You'll notice that the Fly Print rides lower to the ground than most running or training sneakers, and that's a definite advantage to you. A lower ride keeps your ankles safer, and gives you better stability for fast-paced dance classes.
Previous buyers said that while this pair can feel a bit thinner and stiffer out of the box, they work wonders on the dance floor. They said their knees felt much better after class, and they appreciated the effect of sure footing on their joints. They also complimented the sole's shock absorption, and said it had a surprising amount of arch support.
The factory insoles are removable, and previous buyers said it's a piece of cake to switch them out for an orthotic or more cushioned option.
They're relatively affordable. You can find these starting around the $40 mark, which makes them excellent for people on a tighter budget, or folks who are getting into Zumba casually.
It has a nice, wide toe box. Previous buyers said they really appreciated how unobtrusive the fit was. It allows room for your feet to swell naturally as you work up a sweat, without feeling too loose.
They look bold, fun, and distinctive. These are available in a few different prints, all of which stand out from the crowd!
Cons
Some buyers didn't love the pivot/slide points on the sole as much as others. Your own results will vary depending on your floor surface. However, the vast majority of reviewers were happy with how these performed at their class location.
A few reviewers found that the sizing erred slightly on the long side of things. Likewise, some people weren't thrilled with the wider toebox. If you prefer a tighter fit, you may want to go half a size down.
If you have high arches, you might need more arch support than the Fly Print's can offer. They have a relatively neutral arch, which some dancers found too flat.
These Puma trainers are a great crossover option for women who want something they can wear to the gym as well as on the dance floor.
They're some of the best-selling women's athletic footwear on the market right now!
We think they're a very versatile choice for Zumba-goers who want one pair to do it all, without spending a premium. They move easily, and have some added cushioning for all your other workout needs.
Pros
The Riaze's have a mix of EVA cushioning and gel cells to provide relief and springy padding in the soles. We like the addition of gel cells over solid EVA foam because they help cut down on weight. That means the Riazes have less of a clunk factor on the dance floor than other athletic options.
Previous buyers said they were very comfortable over the course of a class or workout. We also found that many women used the Riazes as all-day shoes, since they were so comfortable.
Even though they're more of a traditional athletic shoe than the Fly Print, the Riazes ride relatively low and close to the ground. That makes them one of the most stable cross-training options for Zumba that we've found.
They're stylish and functional at the same time. These combine a mesh upper with some faux-leather overlays. We like the overlays because they give the Riazes a bit more structure than the Fly Print, without taking away from the ventilation of the shoe. Structural overlays make mesh uppers last longer, too!
They have a padded tongue and collar, to keep you comfortable as you dance. We also like that the laces are looped and elasticated, which gives these the comfort and convenience of a slip-on, with the look and feel of a normal lace-up athletic sneaker.
Overall, the Riazes are a great all-around gym sneaker. They have plenty of padding for shorter treadmill workouts, and they're agile enough to handle strength training, cross-training and other whole-body gym workouts. The Riazes provide more of a heel platform than the Fly Prints, with a total boost of 1.25". That's ideal for people who are also going to be hitting the gym to do squats or cardio workouts besides Zumba.
They look sleeker than the style options on the Fly Prints. The Riazes come in 5 different color combinations, with contrasting strapping across the top. They're a bit less flashy and "fun" than the Fly Prints, without looking utilitarian. Perfect for ladies who like to keep it simple!
Cons
Some buyers found them a bit stiff. They're definitely not the most cushioned sneakers on the market. We like the low profile for dance classes, but some buyers suggested using a different insole to give them more cushion. These definitely aren't shoes for people with a history of foot issues.
While the Puma's don't have as much traction or grip features in the sole as many other athletic shoes, they do lack a spin point. Some previous buyers thought they were a bit too grippy for their dance surface.
They fit a bit small. While the majority of buyers liked the snug fit, we might suggest sizing up half a notch if you don't like a snug, sock-like fit, or have wider feet.
These are ideal for people who do a bit of everything at the gym, but they're not great for running longer distances, or running outside. They're built for an indoor facility, with cardio and weight machines that don't require as much traction or cushioning.
As with so many running shoes, the inner fabric material in the Riazes doesn't last too long. Overall, previous buyers said they were a bit disappointed by how quickly they started to see wear and tear.
These Zumba-branded kicks add some modern, hip-hop flair to your Zumba class attire. They're perfect for younger dancers, or for people who like something less "sneaker" and more "street".
We especially love the high-top design for its excellent heel support and stability.
Plus, these are the best-built shoes in the Zumba-brand lineup. We've found that they're one of the most popular choices for instructors and avid dancers who go to class several times a week.
They're our most affordable hip-hop style recommendation for Zumba.
Pros
They're not as clunky or flat as other hip-hop style shoes. Previous buyers said these felt very light and maneuverable on the floor, which isn't something you can say about many high tops. At the same time, they pack more cushion than most hip-hop styled shoes. Previous buyers said they provided lots of support for ankles and arches, which kept their feet comfortable over the course of classes.
The reduced weight is down to a clever hybrid construction. Unlike most high-tops, the Energy Rush's are made with a partially mesh construction, providing ventilation and weight reduction throughout the whole shoe.
Previous buyers said they were light, cool and agile. Unlike other mesh options at this price, they also hold up exceptionally well over time. That's thanks to cross-pieces of sturdier material, like in the Puma's.
They're more secure than low shoes. Even though they're wide and open at the top, there's a velcro strap across the tongue for some extra security. We also like the high-top design because it provides plenty of ankle security for active routines that involved lots of jumping and twisting.
This heel counter feature is something that you won't find in the sneaker-style athletic options. Normally, it's found only in traditional dance shoes. We love that it's integrated into a hipper, more contemporary style here.
They look much less utilitarian than other Zumba options. The Energy Rush's look a lot like the other high-top, hip hop-style sneakers you'll see all over the streets, especially in urban areas. They're very hip, fly, and modern: perfect for college students taking evening Zumba classes.These ones look great with sweats, yoga pants, and other looser contemporary athletic wear.
Like the Fly Prints, the Energy Rush's are designed specifically for the floor. They have Zumba's own "Z-slide" soles for extra movement flexibility, and these ones are non-marking, so they're great for slides, twists, and other footwork which can leave lots of skid marks with other shoes.
Overall, reviewers felt they were better-made than other Zumba branded footwear. These are very popular among Zumba class instructors as well as learners and attendees. We didn't find any complaints about durability or quality control with this style. That's a big difference from some of the Zumba brand's cheaper options, which can be a bit lightly made.
Cons
They don't have a lot of arch support. As with our other recommendations, dancers with higher arches will probably want to use an additional insert, or a different insole to get proper support for their feet.
There aren't a lot of color options. This one comes in two two-tone styles, a choice between purple/pink or black/green.
They're more expensive than the other models in the Zumba-brand lineup. With that said, we also appreciate that these are made better, and last longer than the cheaper options. You'll want to consider the improved longevity when you're deciding whether to pay more for these kicks.
The Pilox is what we recommend if you prefer an understated design that will work with your various Zumba outfits.
It has a low-cut design that can turn this into an everyday pair of shoes, not just for Zumba wear. Like many of Reebok's offerings, this also features Eva midsole and pivot point on its outsole.
We think this is perfect for dancing because of how flexible and comfortable it is. The forefoot flex grooves ensure you can do those intricate dance moves without the shoes impeding you.
Pros
These shoes have a design that will work with all sorts of attire. They are classic-looking enough to work with everyday clothes. The sole features a gum detailing that gives it that retro touch, which is quite fashionable today.
They are comfortable enough to be worn for extended periods of time. The eva midsole absorbs pressure and shock, so you can dance in comfort.
It has a good lock in. The bootie style prevents the shoes from accidentally falling off while you dance.
These shoes are quite lightweight. The weight is not a distraction when you dance. Many said this is the most comfortable pair of shoes they have tried before and it feels a lot like walking on clouds.
The rubber soles glide easily on the flooring. There were those who said they used it for their Zumba session and this glided well on the flooring.
These shoes seem to hold up well against a lot of uses. There were those who used it for dancing and walking and did not experience issues. The soles still held on, unlike the shoes they used in the past where the soles have worn out easily.
The price is reasonable. If you are new to Zumba and don't fancy spending a lot of money on a pair of Zumba shoes, this should be a good choice.
There is a lot of toe room. The toes don't get squashed while dancing, which is great for comfort.
Cons
There were those who wished it has more ankle support. It might not prevent ankle injuries in case you had a misstep. Some said while the fit in the rest of the shoes is good, the ankles tend to be a little loose, hence the lack of support.
Some also complained about its lack of arch support. It's not the best, so they had to resort to adding a more supportive insole for better arch support.
You might need to get another pair of shoe laces. According to some users, the ones these came with were a bit long.
Some found the sizing to be a little large, so you might have to wear thicker socks or size down.
This Reebok training shoe offers the light weight and flexibility of the Fly Print with some of the added cushion and urban style features of the Pilox.
We think the Hayasu makes the best all-around sneaker which you can wear to dance class, use for cross-training, or take out on the town when you're dressing casually.
Pros
They're an excellent all-purpose trainer, in addition to being an ideal Zumba shoe. Reviewers said the Hayasu's worked very well for lifting, cardio machines, cross-training, and especially for agility exercises which incorporate the sort of moves you'd do in Zumba class.
They have an elevated heel for squats and jumps, and the mesh upper means they're more than up for a run or a session on the elliptical trainer. Overall, they're one of the lightest, most breathable shoes you can wear for any workout.
They incorporate a lot of the features we love about the Pilox. The Hayasu's feature Reebok's 3D air foam for cushioning, which gives them a lot of lightweight pressure relief. The outsole is also equipped with the same pivot point under the ball of the foot that makes the Pilox such a great choice for twists and turns.
The best part for us about the Hayasu is the way the sock-like upper works with the sole to give you almost unlimited range of movement without compromising stability. Previous buyers said the wide, flexible sole was exceptionally agile. They said it provided excellent ankle support, cushion, and sideways stability, while pivoting easily on the ball point. The sock-fit and snug ankle keep all the support elements in place, so you're no sliding around inside the shoe like you would in some other mesh models.
There are lots of style options. The Hayasu comes in a dozen different variations, with lots of colors to choose from and a few bold prints thrown in as well.
They're more rugged than other mesh shoes, thanks to the synthetic support pieces across the upper part of the shoe. The laces work into the supports, which means they're not going to rip or pull right through the mesh sock component.
As with the Pilox, the Hayasu is a very popular shoe for teachers and professional trainers, since it's so durable and comfortable. Previous buyers said they could easily get through several classes per week in this shoe, since it was so comfortable, and held up well over time.
Cons
Some reviewers thought they were a bit too grippy for their dance floors.
They fit very snugly, like a sock. A few previous buyers found the ankle opening too tight for their taste. Other said that while the shoes were tough to get on the first few times, they soon loosened up and became more flexible.
Again, if you need strong arch support, you'll probably want to use an insert. These have an Ortholite sockliner, which is pretty easy to remove or customize.
They're very expensive. These are some of the most expensive shoes you can buy for Zumba, so we really only recommend them to people who will get the most out of them by using them for the gym as well.
Our last recommendation comes from Ryka, a very popular modern dance and fitness shoe company. These high-top shoes have a bit of a hybrid design.
They have the height and style aspects of a hip-hop shoe, but with a sole construction that looks more like an athletic shoe.
Previous buyers loved these for nearly any style of dance class under the sun, from Jazzercise to Hip Hop to, of course, Zumba!
They're easy to customize to your own needs, and they last forever. These are the best option for people who need to use custom insoles, since they're a great structure that's easy to modify as necessary.
Pros
The outsole design is similar to the Reebok models we've looked at, with a bit of a twist. This one has a traction outsole like you'd see on a basketball shoe, but with a pivot point built in. Previous buyers said it was excellent on wood or synthetic floors and turned like a dream.
It has some of the best heel support and stability of any of our recommendations. The Rykas actually have a molded, rigid heel reinforcement unit, which keeps you from pronating too much to either side as you dance. It's great for people who naturally have a bit of pronation in their step, and works nearly identically to stability running shoes.
It has a special springy insole material for cushioning which bounces back and returns the energy of each downward motion back up to your legs. That's one reason these are so great for frequent dancers. Since your legs are getting more energy back from the floor, it's a lot easier to keep going without getting tired.
It has a lot of room for adjustment. There's a hook-and-loop lacing system, as well as a velcro security strap.
The Tenacity comes with the widest range of style options of any of the shoes we've looked at. There are more than a dozen different color combinations, from bold animal prints to low-key all-black models.
Cons
They run slightly large. Previous buyers recommended sizing down, especially because they do stretch out a bit over time.
As with the rest of our recommendations, they don't have strong arch support. Some buyers said these aggravated their plantar fasciitis symptoms, and others simply said the thin factory insoles made them sore. We'd recommend using an alternate insole for these.
Some buyers might find the extra expense inconvenient, but many previous buyers said that the stability, build quality, and maneuverability of the shoe itself made it worth the extra effort and expense to customize the insole.
These aren't as padded as some of our other recommendations. We don't think they're a great choice for running or cross-training, since they simply don't have enough cushioning.
How To Choose The Best Sneakers For Zumba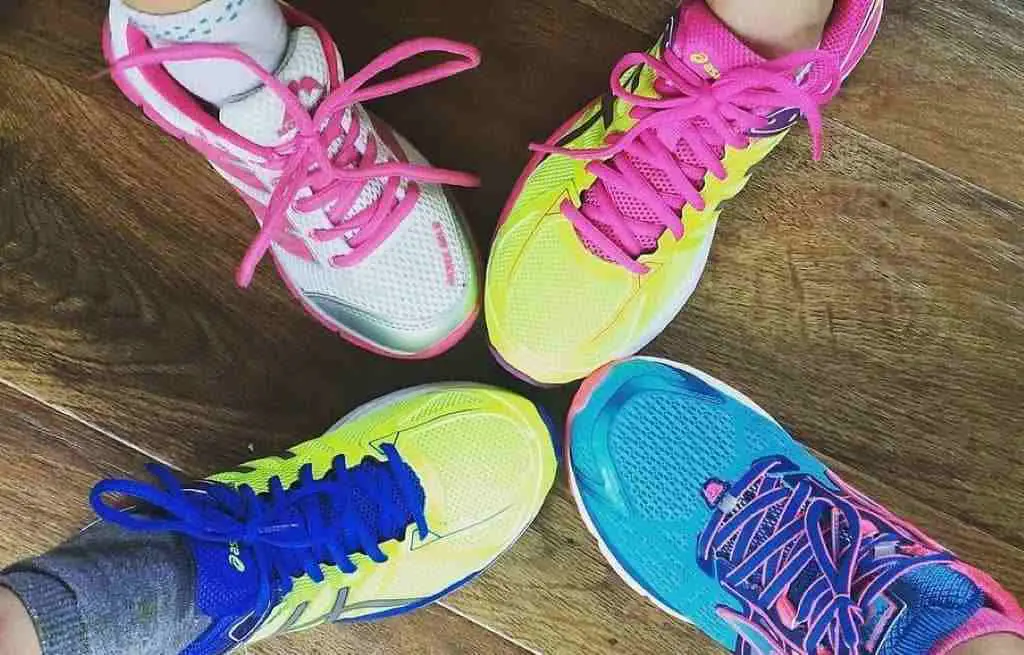 Avoid Running Shoes
A lot of people shopping for Zumba shoes immediately make for the running shop. Using running shoes for Zumba seems pretty intuitive, since they provide lots of cushion, and they're great for jumping around and working out.
However, Zumba is a very different form of agility training and cardio than running. Running, for instance, requires really grippy shoes, so you get traction and keep even footing. All that traction can be a real downside, and even a serious risk for indoor Zumba classes.
Too much grip keeps you from gliding and transitioning smoothly through fancy footwork. It can put your ankles in danger, leading to sprains, slips, or falls.
We've also found that the pronounced cushion in many running shoes makes them a bit too wobbly for dancing.
They're too springy and unsure for any moves that require balance. One other downside? The weight.
The cushion and support features in many running shoes makes them clunky and tiring over the course of your Zumba class.
It's best to avoid running shoes altogether, as well as cross-training shoes that are too grippy or cushiony. Look for something a bit lower and sleeker, without sacrificing any necessary support.
Look For Spin Points
As we've said, one key thing to avoid in a Zumba shoe is traction. You need a bit of slide and glide for your Zumba moves and spins.
However, you also want to avoid something like a bowling shoe which just slides around with no control.
That's why many traditional dance shoes are built with a spin point. Spin points are generally located under the ball of the foot.
They're designed to allow ballet, jazz and other more traditional dancers to have more freedom of movement.
These are ideal features to look for on Zumba shoes as well. You'll want to make sure you either buy a shoe with a special spin point, or a smooth sole around the ball of the shoe to give yourself a lot of flexibility.
Choose Flexible Or Split Soles
One other key feature to look for in terms of maneuverability is a flexible or split sole.
Many modern cross-training shoes and sneakers have segmented, caterpillar soles which are extremely flexible, and ideal for the sorts or varied footwork you'll need to get through in Zumba.
You can also find a lot of more traditional dance shoes which have split soles, with a thick forefoot and heel sections, and a severe break in the middle of the shoe.
Both types of sole will give you better flexibility over a more general, solid sole.
If you're planning to buy a shoe without a split or segmented sole, make sure it's super flexible, so you won't have any restrictions as you move.
Don't Skimp On Support
Zumba classes can be exhausting enough in terms of how much you'll sweat and work up your cardio factor. It's important to make sure you're not also wearing out your body by wearing unsupportive footwear.
Think about two key factors: cushion, and support. Make sure you cover all the essential bases, even if you don't have any foot problems.
You'll want to look for basic arch support, a slightly elevated heel cup, and a decent amount of padding.
Look for flexible soles which can adapt to a range of movement. That extra flexibility will help your shoe's supports stay lined up with your foot as you dance.
At the same time, make sure the sole has some structure in the important areas: arch, heel, and ball.
One key structural element to look for is a heel counter. Many athletic shoes have very low heel counters, to give you more of a range of movement as you work out.
However, where Zumba is concerned, a higher heel counter may actually be a better choice. Heel counters protect your ankles, especially for faster classes.
You'll want to balance cushion against light weight and stability. Lots of padding gives your feet relief, but it also makes your shoes bulky and heavy to use.
Plus, the more elevation you have in your footwear, the less stable your ankles will be as you dance. Try and find the lowest-profile shoe that keeps you comfortable.
Remember: cushioning isn't the same thing as support. Cushion is nice and forgiving, but having strong support is actually more important for longer dance classes. Proper foot support can make a huge difference in your overall posture and muscular engagement as you dance. Make sure you focus on a strong core to the sole, as well as padding and bounce.
If you think you've found the perfect shoe, but need some extra cushion or more of a structured arch than the factory insole offers, remember that you can always swap out for an orthotic.
Just double check to make sure that the factory insole is removable, or order 1 size up to use an orthotic insert over the factory insole.
Which Are The Best Shoes For Your Zumba Workout?
The Fly Prints are the best pair for people who are just starting out in Zumba or dancing on a tight budget.
They're the most affordable shoes here, and they have all the key features you need in a Zumba shoe: a sliding sole, a low profile, and lots of ventilation.
However, they're built pretty cheaply, and they don't have as nice a pivot point as some of the more expensive options.
The Pumas are the most affordable option for people who want one shoe they can wear to Zumba and to the gym, as well as around town.
They ride low, have a smoother sole than other cross-trainer shoes, and the gel cushioning gives them a lot of support without increasing the weight too much over dance-specific shoes.
On the downside, they're heavier, stiffer, and less easy to turn in than a Zumba-specific shoe. Previous buyers also found that the material inside the shoe broke down fairly easily.
The Energy Rush is the most affordable hip-hop style shoe here. It's an urban alternative to the Fly Print, and it has most of the same features: a sliding sole, mesh construction, and lightweight cushioning.
We also love that the Energy Rush incorporates a specific pivot point. It's also built better and more heavily cushioned than the Energy Rush.
All in all, we think it's the best urban-style shoe for new Zumba-goers or college dancers. With that said, these are more expensive than the other Zumba-brand models, and they aren't a good choice for other workouts or fitness activities.
The Reebok Pilox is the most comfortable pair of shoes you will get. It glides smoothly on any floor surface and has a good flex to it that makes it easier to perform those intricate Zumba moves.
It is even stylish and comfortable enough to be worn as your every day pair of shoes.
They're flexible, supportive, and very stable: everything you want in a high-top Zumba shoe. We highly recommend them to anyone who dances frequently, and likes a high-top, modern silhouette.
The only downside for us is the single color option, which doesn't leave a lot of room for you to customize the shoe to your wardrobe.
The Reebok Hayasu is the our choice for people who want the ultimate all-in-one shoe. It's great on the dance floor, thanks to a pivot point, mesh upper, and a lightweight foam sole.
Plus, its supportive heel and excellent cushioning make it a great shoe for hitting the treadmill, doing lifts, or working on agility training outside of the dance studio.
On the other hand, they're very expensive, and they're harder to modify with a different insole.
The Ryka Tenacity is our top recommendation to people who will be customizing their Zumba shoes with an insole or other additional support.
They might not have the best comfort out of the box, but they have excellent build quality and make a great shoe shell.
These can stand up to daily Zumba classes, or even long training sessions for instructors. We especially like the hybrid design, which combines the best elements of both a high-top and an athletic sneaker.
On the downside, they're relatively expensive, and quite a few buyers found them uncomfortable with the factory insole.
Although all our picks for best zumba shoes are great, we think our primary recommendation is for the Zumba women's fly print shoes – they're great value and are designed specially for the sport.
What's Next?
Alright, dancers! Here we are at the end of our guide! We hope you've seen at least one or two pairs here that would be great for you.
To see lots of other choices that didn't make our final cut, head over to Amazon!