Plantar fasciitis can be a real impediment to living your life. Thankfully, this chronic foot pain is often the result of inappropriate footwear. So, when you fix your kicks, you fix your symptoms!
Running long miles and working on your feet all day are always stressful, but manageable with the right footwear.
If you buy shoes that properly support your arch, toe, and heel areas like our top picks here, you're much less likely to run into trouble!
We've done the research, and found the best ones for you and your feet! We have great options for running shoes, sneakers, dress shoes, and insoles.
Check out our top choices for the best shoes for plantar fasciitis!
Best Shoes for Plantar Fasciitis (Sneaker Reviews)

These lightweight runners from Nike are simple on the outside, and sophisticated underneath!
We love their special one-piece mesh upper. It works with a special lacing system to fit snugly and securely like a sock, while providing you with flexibility as you move!
You'll see the cables across the top of the foot–these distribute tension and keep everything in place. Plus, the upper material is super airy, so your feet stay dry and comfy.
In the sole, Nike's Zoom cushioning protects your heel and gives you a bit of a boost in forward momentum. Previous buyers really complimented their solid arch support.
They're supportive enough for running with plantar fasciitis, but won't be squishy or restrictive like a motion control shoe.
These are some of the best athletic sneakers for plantar fasciitis. That's clear when you look at the strong level of buyer loyalty with these shoes. People come back year after year for a new pair, because they feel so good!
This latest version  of the Pegasus adds even better cushioning, even lighter mesh material, and better durability in the upper.
They're available in both men's and women's models, and reviewers of both genders said these 34's are the best Pegasus yet!
The Gel Kayano is Asics' best selling runner. Reviewers have called it "The Cadillac of Running Shoes," and we can't help but agree!
It's heavily cushioned with extra stability and support for pronators. Like riding in a Cadillac,  these shoes smooth out all the bumps and jolts of the road, protecting your feet and joints.
The cushioned sole has gel pockets built in, which provide plenty of cushioning at a much lighter weight than rubber.
It has a lot more pressure and impact relief than the Pegasus, but it still doesn't feel bulky. Think of it as running on springy clouds!
The Fluid-fit upper combines mesh and flexible reinforcements to keep everything securely in place. It's similar to the Pegasus's upper, but if anything, more like a sock.
Reviewers said the Gel Kayanos were a sure bet for reducing plantar fasciitis, joint pain, and other foot ailments.
Because they have a maximum cushion insole, they're a bit more elevated than the Air Pegasus or the Glycerin, making them one of the best bets if you have any sort of heel pain.
Overall, they're more of a stability style than the Nike's, and more suited to people with severe symptoms!
This updated version of the Glycerin is the lightest yet, and uses Brooks' new Super DNA midsole to provide cushioning with a boost.
It's designed to enhance energy return and support while still cutting weight. This makes it one of the best running and walking shoes for plantar fasciitis.
We particularly like that the sole is redesigned to optimize pressure distribution along the foot. That means that impact won't stress out traditional pressure points, such as the arch and heel!
The upper is made from a lightweight, breathable mesh, and has durable reinforcements built into the toe and sides.
Brooks says these are meant for runners who have medium to high arches who need slightly stronger cushioning.
Reviewers said they're incredibly comfortable, and fit perfectly. They are perfect if you're a serious runner facing plantar fasciitis.
The 15's are the best yet, as far as we're concerned. We loved the 14's, but these have better flexibility throughout, and the fit on the upper is perfect. Snug, but not restrictive. Transitions are especially good with the 15's.
Best Sandals for Plantar Fasciitis
These orthopedic sandals for women are a flip flop with serious comfort credentials! They've got the same sleek look as many other flip flops, but use a molded EVA footbed to provide arch support and heel cupping.
It's designed by podiatrists to provide stability, support, and realignment. There's also a shock-absorbent midsole to give you some cushion as you walk.
The outsole is made with high-durability materials which have slip-resistant tread.
Overall, we found that previous buyers said they've worked wonders with plantar fasciitis, and they're super durable. These will also last you a long time, especially compared to your average flip-flops.
These also have a footbed that's designed by podiatrists. It has a deep heel cup, which supports and realigns the feet to their natural position.
There's also pronounced arch support and a lightweight EVA midsole. This runs the length of the foot to reduce pressure and help provide relief for your joints as you walk.
The outsole is made from high-durability rubber, and has traction for smooth and wet surfaces.
These sandals are some of the only ones to earn the American Podiatry Association's Seal of Acceptance, which means they're clinically proven to help with plantar fasciitis!
Reviewers said that after just a few days of adjustment, their feet were feeling much better in these sandals.
Birkenstock's Arizona sandals are by far our favorites for healthy feet! Not only do they resolved P.F. symptoms like nothing we've ever tried, but they make for a healthier gait and happier joints!
Their supportive footbed is far more therapeutic than any flip flop. While Birk's used to be a "hippie" style, they're now totally in fashion.
As more and more folks discover their comfort credentials, we want to encourage anyone who's passed them by to give them another look!
These are pricey sandals, but we think they're more than worth the cost. Birkenstock's have natural cork and latex footbeds which are sculpted to provide the healthiest possible walk.
They have strong arch support, and a deep heel cup to return weight distribution to its natural alignment.
The metatarsal ridge encourages foot muscle engagement like you have when you're walking barefoot in sand!
Best of all, the natural materials shape to your feet as you break them in. Unlike EVA, which simply softens, they reshape while retaining springiness and structure.
We're recommending the softer variety, since they're easier to get into when you're new to Birk's. There's much less of a break-in period than the standard versions.
Learn more about why Birkenstock's are our go-to kicks for problem feet in our guide to the best sandals for P.F.!
Want More?
Best Running Shoes for Plantar Fasciitis 
Asics have an incredibly good reputation for making some of the best styles for alleviating plantar fasciitis. These are no exception! The Gel Nimbus is Asics' model for the serious runner.
According to the company, the goal is to provide a plusher, smoother run for longer jaunts and endurance races. Gel cushioning absorbs impact and helps you make smoother transitions as you run.
The lightweight FluidRide midsole is designed to bounce back energy and provide ample cushion without adding bulk.
Reviewers said these were extremely comfortable, with excellent support for all parts of the foot. Previous buyers also said that they were very helpful with reducing joint and foot pain.
The best part is the lightness, which helps you keep your speed up even with a stability pair. They're a great choice if you're a serious runner dealing with plantar fasciitis.
These Brooks' are the most "realistic" runners we recommend for dealing with P.F. symptoms.
They're categorized by Brooks as providing both stability reinforcements and full-foot cushion, and the company suggests them for neutral to underpronating runners.
We've found that they're actually good for slight over-pronators as well, but your results will depend on your own individual feet.
In any case, they give you lightweight, flexible P.F. relief. They're lighter than the Glycerin's we've recommended above, which is a key reason why we recommend those for day wear and these for runs.
They're loaded with very springy cushioning, and feel much less clunky than a lot of other P.F. relieving running shoes. All told, they only weigh 11 oz!
The Ghost's have moderate but dense arch support, as well as some extra heel cushioning, apparent in the 12mm differential.
The arch helps to correct your overall foot dynamic, while the heel cushioning gives you relied for your acute pain symptoms.
Overall, they're very comfortable for people suffering from P.F.! They fit true to size, and have no break-in period–always a plus for us!
They feature an engineered mesh upper, synthetic reinforcements, and a padded tongue and heel with a soft sock-liner.
The anatomical, gender-specific insoles are removable, if you have a favorite aftermarket product you like to use. Underneath, there's a fully-segmented crashpad for realistic ground sensation.
We especially like the blown-rubber material that's used for the forefoot cushioning. It gives you the light weight of synthetic foams without losing the grippy resilience that makes rubber such a staple.
As an added bonus, they're made as part of a partnership with the Sustainable Apparel Coalition.
Order slightly up, though, since they run small!
This pair from Adidas features the company's new Boost foam. It's designed to return energy back to you as you run. We've found it makes a real difference in helping you push off with each step.
The footbed is supported by a full-length EVA frame, which provides stability for pronators. There's also a Torsion system to correct mid-foot rotation.
All of this is topped by a sock-fit mesh upper, designed to keep your foot lined up with the support features as you run.
They're very comfortable straight out of the box. We also found these to be ideal for workouts at the gym!
Best Dress Shoes for Plantar Fasciitis 
Birkenstock's are traditionally known for clog designs and other super sensible flat footwear. However, there are certain times when you want a wedge, healthy or not.
This Dana style meets the best of both worlds. It's a wedge style with a lowered heel drop and a super supportive anatomical footbed.
It's shaped just like other Birkenstock footbeds, but with some extra support to make your feet comfortable at an incline.
They've got ample arch support to relieve your plantar fascia muscle, and like other Birk's, they have a deep heel cup to relieve pressure and pain at the back of your feet.
We also love the cork footbed material, since it both molds to your own feet, and stays resilient longer than other materials.
Ladies agree that they're a great solution for P.F., and like other Birk's, they're great for relieving joint and back stress.
Another Birk perk is that they're a bit more generous in width than your average wedge, so they won't lead to bunions or pinching!
These Birkenstock's are just what the foot doctor ordered for P.F. symptoms! They're a classic desert boot style that's formal enough for just about any workplace, with a bit of independent flair to help you stand out from the oxford and brogue crowd.
The key to their comfort is the Birkenstock cork and latex footbed, which brings the weight back onto the heels where it belongs, while relieving pressure across the arch and metatarsal dome.
They give you all the style points of a Clark's desert boot with a lot more comfort and stability.
While these are expensive, they're boots that are comfortable enough to wear on your walk to work, and classy enough for the boardroom.
Birkenstock's are our go-to casual shoes for P.F. relief, and we absolutely love these for when clogs and sandals won't do!
Dansko has a longstanding reputation for comfort and sophistication. They're all about the support. The sole is designed to give you a firm base to create an optimal posture.
It raises the heel slightly, and gives you strong arch support. But don't worry–there's a fair amount of padding, too! These clogs have an additional layer of memory foam on top of the traditional cork footbed.
Other comfort features include a soft leather sockliner, breathable footbed, and a rocker bottom, making them some of the best work shoes for plantar fasciitis.
Reviewers said they're great for reducing joint stress, and helped their posture while walking. And they look fantastic at the same time!
Best Insoles for Plantar Fasciitis
These inserts have a high arch support, and elevate the heel slightly for a secure cup and superior posture.
They're made from high-density closed-cell foam, and have an all-natural coating. They are cruelty-free, free of harmful chemicals, and prevent bacteria and odor.
We think they're ideal if you have a medium to high arch and want to wear your usual pair without the pain of plantar fasciitis.
Previous buyers said they're comfortable, flexible, and very long-lasting. Plus, they're available in lots of sizes! Just make sure you'll be able to remove the factory insoles before you buy these.
An incredibly supportive unisex option, these 3/4-length cork footbeds are hands-down the best inserts for plantar fasciitis. They're made with the same cork and latex material as Birkenstock's sandals and shoe footbeds.
With a deep heel cup and strong arch mound, they're sure to realign your gait and stop P.F. symptoms in their tracks. Plus, like other cork footbeds, they shape naturally to the profile of your own feet as they wear in!
We particularly love the 3/4-length inserts, since they can fit in any shoes you want! They pop in any out easily, too, so you can swap them between your pairs.
These best-selling inserts are made in the USA from a dual-layer foam cushion. We'd recommend them for people who want maximum padding. They're covered with anti-microbial fabric, and are flexible enough to work with almost any shoe type.
They have medical-grade foot support, and provide deep heel cupping for stability and pressure relief. You'll also get moderate arch support and full-foot padding to make your footwear a bit more cushy.
Reviewers loved the extra support, and suggested giving these a few days to break in, so you'll be able to judge the comfort better.
They're very cheap, but they last for years! They're available in many sizes for men and women and are the best shoe inserts for plantar fasciitis.
When we've weighed everything up, we think the best shoes for plantar fasciitis are the Nike Zoom Pegasus – subtle, sophisticated and, above all, very comfortable, they represent great value.
Plantar Fasciitis 101
Plantar fasciitis is a condition which plagues people around the world. According to Wikipedia, it affects about 10% of people during their lifetime!
You might not know it by name, but you almost certainly know someone who's experienced the condition.
So, what exactly is P.F.?
Plantar fasciitis occurs when the plantar fascia (the muscle tissue connecting your heel to your toes) gets stressed out. This muscle can stretch and eventually develop small tears, which can be extremely painful.
Symptoms for plantar fasciitis are generally felt along the arch or in the heel. Anywhere the muscle  runs, you could experience twinges, spasms, and aches.
Symptoms can surface differently depending on the person. You might feel stiffness at first, and need more time to warm up in the morning.
Eventually, though, if you don't do anything to resolve it, you'll probably start to feel sharp pains in the heel and/or arch.
Several factors can contribute to plantar fasciitis. The first one is a change in routine. If you start running for the first time without easing into it, or start a new job that involves walking around all day, your feet won't have a chance to adjust.
The main muscle then gets overworked, and lets you know about it!
Even if running and walking a lot is something you've done for a long time, you're still at risk for plantar fasciitis if you don't stretch and strengthen regularly.
Despite the fact that you won't be posting pictures of it on social media, your plantar fascia needs just as much upkeep as those abs you're proud of.
Without a decent amount of foot-strengthening exercises in your life, you're asking for a visit from the P.F. poltergeist. That's why lunges and toe-raises are so helpful.
Your foot type also plays a role. If you have a flat/fallen arch or a high arch, you're more likely to have foot problems like PF.
That brings us neatly to the last and most important factor–your footwear! Wearing unsupportive shoes is a recipe for P.F. pain. Your arch needs support, or it'll get overworked and strained.
To prevent and/or alleviate this condition, you'll want to find a pair that provides you with more pronounced arch support.
And remember, while shoes are an important step in your journey to pain-free walking and running, you'll also have to stretch, rest, and exercise carefully.
How To Choose Footwear That Will Actually Relieve Pain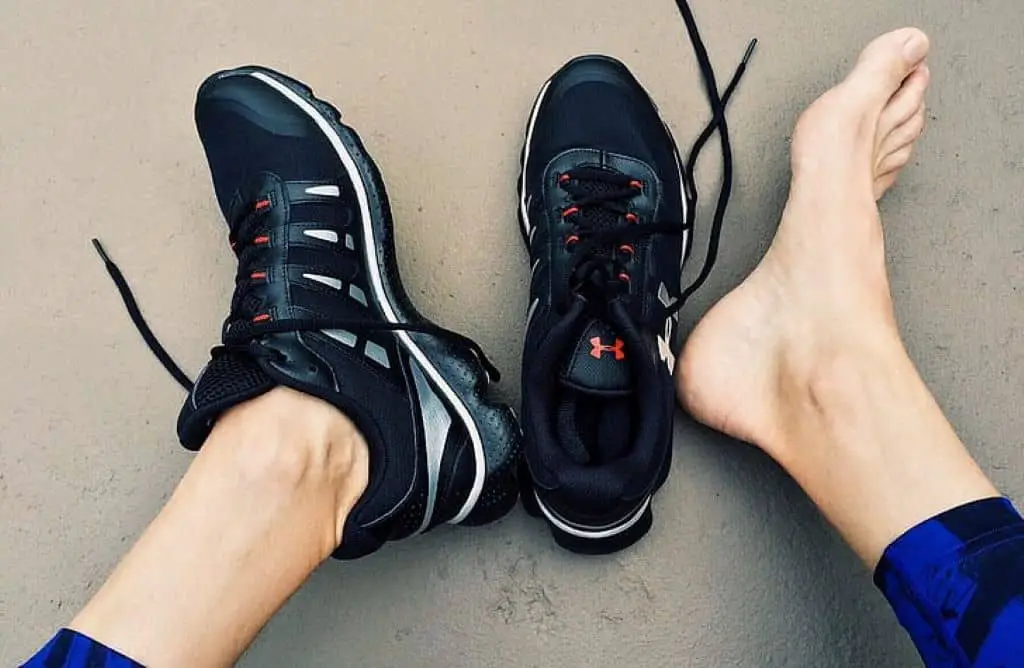 Here are some key factors to consider when shopping for the best shoes:
Support
The key to finding the best shoes for heel pain relief is proper arch support. The level of arch support you need depends on your foot type.
For example, if you've got a very high arch, you'll need a more severe arch support. Otherwise, your arch will have to stretch out every time you take a step, which will cause soreness.
Get to know your foot type before you shop. If you've got a high or low arch, your feet probably have some amount of pronation (side to side movement) as you walk or run.
If it's prominent, you might want to find footwear with a bit more stability built in. Generally, that will be around the midsole and heel. You'll also want a fair amount of cushion.
The more impact your footwear absorbs, the less impact your arch needs to handle. And, of course, you'll want a cushioned, stable heel.
Remember to look for similar support features in all your shoes. The features that make the best dress shoes will be the same arch support, heel cupping, and enhanced cushioning that define the best tennis shoes for plantar fasciitis.
Style
Plantar fasciitis doesn't need to interfere with your style! As you can see, we found plenty of options that look great but still support your feet properly.
However, you should expect the soles to be a bit thicker. Remember that comfort is the most important priority.
And if you need sleek, sophisticated shoes for work, you can use orthotic insoles to make them more functional!
Budget
It's always a good idea to spend a little more for a well-made shoe. If you have plantar fasciitis, you know that cheaply made or poorly designed footwear is asking for trouble. Plus, you want your shoes to last.
It's a safe bet to buy a shoe from a well-known footwear brand. They'll have put more money and effort into designing their shoes, and their shoes will have a lot more reviewer feedback.
However, the best shoes for plantar fasciitis shouldn't be much more expensive than any other high-quality footwear. Our top picks have a range of prices, and none of them will break the bank.
Other Helpful Hints
While finding a good pair of kicks is the best thing you can do to improve foot health, we know that P.F. symptoms can be very painful.
They often last for weeks, and they won't be resolved overnight. So, while you're waiting for your feet to adjust, try this simple exercise:
Your pain symptoms are most likely in your heel, but to relieve the plantar fascia, you should massage the arch of your foot.
Use a firm ball as shown above, and rock around to massage the arch of your foot. That will help loosen up the tissue and relieve some of the pain!