The best solution for flat feet relief is a good pair of shoes. Generally, the styles with the best support are sneakers, running shoes or corrective walking styles. However, a lot of people need work shoes or dress styles for their jobs or their social life.
Inserts are a great way to make your favorite classy footwear keep working for you! They're also a perfect solution for people who need to look sharp, but want to avoid foot pain.
Inserts can replace or supplement the insole in your ordinary shoes. Plus, insoles are a cost-effective solution. Many mass-produced insoles cost less than $50, and can last the life of several pairs of kicks!
We've reviewed dozens of insoles available online and come up with three top recommendations for you. We judged them based on affordability, durability, and effectiveness. Below, you'll find in-depth reviews of all our faves!
The Best Insoles for Flat Feet Are:
Best Cushioning
Our Rating: 4.3
Popularity: Low
Best Slimline Insole
Our Rating: 4.3
Popularity: Medium
Best Seller
Our Rating: 4.6
Popularity: Medium
Best Insoles for Flat Feet Reviews
The Powerstep Original is one of the best-selling insoles of all time. It's simple, affordable, and provides structure without changing the comfy feel of your favorite shoes.
This model has an extremely loyal customer base, who've used these insoles for years and come back every time they need replacements. They hold up well over time, and provide extra support to your old kicks.
Pros
These insoles are available in all sizes for both men and women. They're almost universal, which makes them an easy go-to for all sorts of footwear.
They're very long-lasting. We read lots of reviews from previous buyers attesting to the durability of the Powersteps. They wrote that these pairs last for years with barely any wear.
The top layer of cushioning is made from a tough anti-microbial fabric. We've found that this material resists odor very well, and stays together with no fraying.
Under the fabric, two layers of foam cushioning form a medically-sculpted footbed. This provides arch support, heel cupping, and correction for pronation. We especially like the heel cupping, which is a subtle but effective fix for wobbly steps (which are very common for people with flat feet). That extra flat-foot support means these relieve heel pain very well.
Overall, these are a simple, affordable solution for most kinds of foot pain and discomfort. The Powerstep's are widely recommended by their podiatrists for anything from plantar fasciitis to heel pain. Given the low price and excellent durability, these are a great low-cost way to make a massive difference in  health and quality of life.
They're made in the USA.
Cons
They're a bit thicker than some other inserts. Some reviewers found they took up more space than they expected. In most cases, you'll be able to replace the original insole. However, the added thickness of these insoles (due to the support) may mean you'll need to size up slightly.
And if you can't get the original insole out, you may want to buy larger shoes to accommodate these insoles. We'd recommend a half-size bigger, depending on the model in question.
They're not heavily cushioned. They work by providing structure, not by adding much more padding to your footwear.
Like most inserts, they take a bit of wearing in. We'd caution people against returning these immediately if they feel a bit stiff. Almost all inserts will get more comfortable and natural-feeling after a week or so. Previous buyers said that after they got used to the feeling, they didn't want to go back.
They won't shape to your feet as much as soften throughout. They're not going to form a personalized profile like a Birkenstock insole would.
These Superfeet insoles are a great option for dressier, slimmer footwear. They're thin enough to fit into almost any shoe, and are designed to provide support without changing the function or feel of your original shoe.
We love them for professionals who can't get away with wearing looser, more casual footwear, but need some extra support for their flat feet.
Pros
They're very slim, and can fit into tight footwear for dress and work. They're even designed to work with non-removable insoles. The foam used in the cushioning is also very lightweight. Reviewers said that they barely noticed a change in their shoes–only that they were much more comfortable!
While they're slim, they're still supportive. They add more structure to footwear with flat midsoles, without aggravating your low arches. We also like the structured heel cup, which corrects for pronation, and keeps you walking steady. It's lower that other heel cups, and set in which reduces foot and joint stress.
The whole footbed is cushioned with foam. Between the supportive molding and full-length cushion, they wonders for plantar fasciitis and arch pain. These are especially noticeable in dress footwear which doesn't have a big comfort factor to begin with.
The material used is designed to negate odor. Reviewers said they didn't notice any persistent smell, even after long use.
Cons
There's a break-in period, which some reviewers said can be upwards of a week. And some found that while the black model provided the appropriate structure and support, they needed more cushion. The slim design does mean there's less padding in these insoles than in the Powerstep or Orthaheels.
Reviewers said the sizing system is rather particular, and advised being careful about measuring your feet according to the online size guide. You might want to get out an actual ruler, rather than going by the number inside the tongue on your footwear.
Orthaheel is a podiatrist-led company devoted to providing functional, fashionable orthotic options for people suffering from foot problems.
These are some of their most popular inserts. We love that they're comfortable from the get-go, and can correct even the most severe pronation without affecting your fashion sense.
They're an excellent solution for people who suffer from plantar fasciitis, and offer plenty of cushion for exercise footwear.
Pros
There's no break-in period. They're flexible right out of the box, unlike most other insteps. That means it's a lot easier for you to judge quickly whether you've found the right solution for your flat feet. With other insoles, you'll have to test drive them for a week or so to get a sense of how they'll feel in the future.
Previous buyers really appreciated how much more flexible and supple these were compared to other inserts. Many reviewers who had switched from custom orthotics to the Orthaheels said that the mass-market model offered the same support, but was less restrictive and stiff. They ended up preferring the Orthaheels to their podiatrist inserts.
Even though they're supple and bendable, they're structured. With a sculpted EVA footbed, they provide moderate arch support, heel-cupping, and a full-foot cushioned bed. Buyers said they have an arch in exactly the right spot, with plenty of cushion throughout.
Many reviewers said that they provided enough support to correct pronation, even in normal shoes! This correction saves a lot of joint stress, without the need for specialist shoes. Buyers wrote that the corrective insole helped their whole leg align more properly. That saved knee and hip pain, as well as foot issues.
Cons
They're made for average instep height, or supporting flat feet. One reviewer said that as a person with high arches, these didn't provide enough arch support.
They're the bulkiest of our recommendations. Reviewers warned that these will make many shoes too small if you can't remove the original insole.
See Also
One other solution for shoes where the factory insole isn't coming out is to use a 3/4 insert. They're inserts which go right up to the metatarsal area, but end before reaching your toes.
They add arch support and tweak the profile of the foot in the shoe. Most importantly, they do all this without making you pull out the original footbed.
They sit on top of the factory insole without making the shoe feel as cramped as if you'd shoved another whole insole on top.
These are the best choices for many dress shoes, and for anything with a flat factory insole (no arch support) that's been glued in. You can just pop these in and walk around!
Another nice thing about them: they're very easy to get in and out of shoes, so you can easily rotate them among different format shoes without buying a bunch of inserts.
If you've ever worn Birk's in sandal or shoe form, you'll be familiar with their feel. These are practically the same, only with the metatarsal ridge cut off.
They have a wide, rounded arch support, and a deep heel cup which barely adds any height to your shoes.
They're made from a cork material that provides plenty of support and gets even more comfortable the more you wear it in.
Our other recommendations have plastic mold bases which stay firm until they eventually crack. Natural cork and latex can adapt to your foot's profile to provide customized support, without losing structure!
On the top, there's a silk layer to keep things moving smoothly. It's more old-fashioned than the synthetic lining materials on our other recommendations, but it lasts a very long time and doesn't develop any odors. It also makes for easy slipping into your shoes in the morning!
Our favorite feature is rather small, but very well-designed. There's a raised embellishment on the bottom, which serves to remind you which foot is which, and also to keep the inserts in place when you're wearing them.
They still lift out easily, but they don't slide around at all in your shoes! They'll fit in virtually any shoe, and are a great workaround for when you just can't get the factory insole to come loose!
How To Choose A Shoe Insert
How To Choose Insoles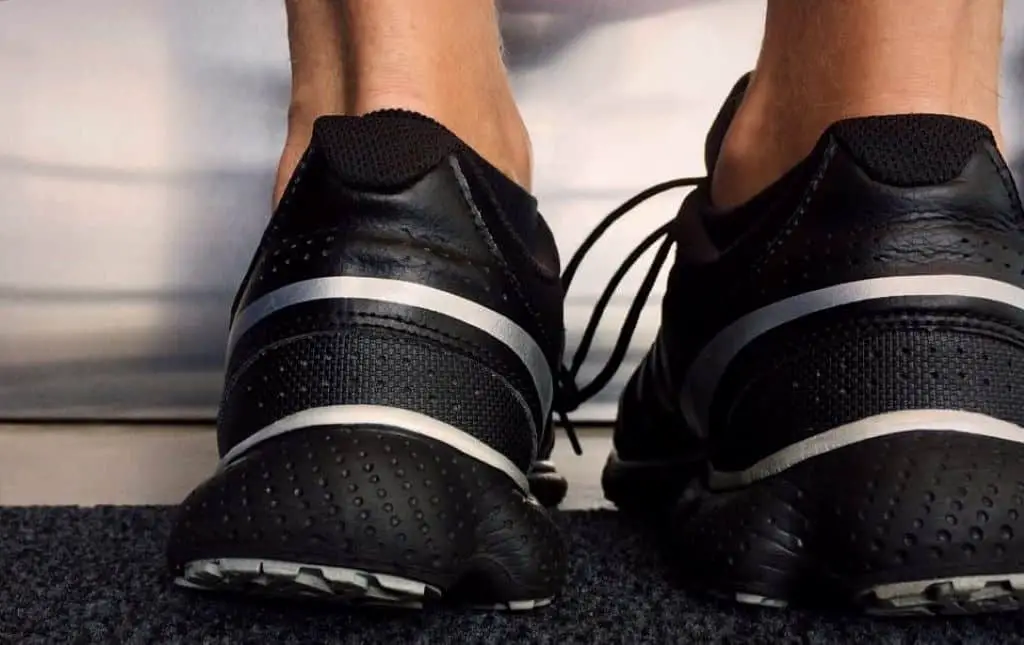 Think About Your Shoes
A big factor in your insole decision will be the shoes you're planning to use them in. If you have general, all-purpose walking shoes or sneakers, you'll probably be able to get away with more cushioned, thicker insoles.
If you're looking to modify brogues, on the other hand, you'll need something a lot slimmer. Get a good sense of the shape of your shoes, especially the toe box.
Some insoles simply won't work with narrow or tapered toe boxes. You'll want to have all the proper measurements in front of you while you shop!
If you can choose a width option on your insoles, that's a great way to make sure it'll fit before you order.
One benefit of going with Birkenstocks is that that manufacturer uses a millimeter scale to give you precise dimensions you can rely on.
One key thing to be aware of with any type of shoes is whether you can remove the factory insoles. Lots of recent styles have factory insoles that pop right out.
That's thanks to current awareness of foot needs and support. However, plenty of older pairs and fashionable modern shoes will have factory insoles that aren't meant to be removed.
If you can get them out without damaging the shoes, that's the best bet. If they're stuck in there, you'll want to find slimmer inserts which can fit right on top of those factory insoles.
Another solution is to use a 3/4 insert which fits over the factory footbed without adding any additional bulk. 3/4 options simply add arch support and heel cupping, which goes right on top the built-in padding.
Think About Your Budget
No factory insole should cost more than $75 We know that special, podiatrist inserts can cost as much as $100-$300.
Fact is, there's such a wide variety of mass-market options out there that paying more than $75 for a pair of insoles really isn't necessary.
Within the $20-$75 range, you'll find that more specialized designs and sizes are the most expensive. The higher priced models will also have smarter features like odor-resistant fabric, EVA foam, or breathable cushioning.
There's some benefit to spending more, as long as you know what you're getting. For instance, Powersteps costing $20 are fine, but they'll probably cave in or crush down within a few years.
Birkenstock cork inserts cost more up front, but last longer. It's really up to you.
Know What You Need
Depending on the severity of your flat feet, you'll need specific support. If you have totally collapsed arches, you might need more solid arch support.
If your arches are just slightly lower, you might want low-profile arches that will cushion your feet without aggravating them with super-corrective lumps.
You should measure your arch and use a comparison chart (easy to find online!) to self-diagnose, or visit a podiatrist. It's always best to seek professional advice, so if you already see a podiatrist or can get in to see one easily, we suggest doing so.
With that said, we know that many folks won't have insurance coverage for what can be a very expensive consultation. If you don't have a severe pain problem to deal with, you can be confident that self-diagnosis is usually fairly straightforward.
It's simply a matter of measuring your arch against a typical curve, and finding a level of corrected curvature that's comfortable.
Conclusion
These are a few of the most popular and highly rated options available online for flat feet. They provide a range of support and structure, and span a range of cushioning. So, which one is right for you?
The Orthaheel inserts are the most heavily cushioned, and will provide more support than structure. However, you might have trouble fitting them into smaller shoes.
The Superfeet Black Premiums are the slimmest, and are almost guaranteed to fit into your shoes-even without removing the original insole. But, they're not very padded.
They provide structured support, but not a lot of cushioning. The Powerstep insoles are right in the middle, providing structure with a moderate amount of cushion. Plus, they come in universal sizes designed to fit anybody.
Although we think all of the candidates for best insoles for flat feet are great, the most popular has to be the Powerstep for its universal appeal.
If you need to find the best sneakers for flat feet, you'll find all our recommendations a great choice, however our favorite has to be the Brooks Adrenaline GTS for their great style and optimal comfort.
Of course, full-feet inserts might not work for you. Each of these brands also make half-length and heel inserts as well. You'll want to see what works best for you.
If you're not into using shoe inserts, you can always check our review for The Best Shoes for Flat Feet.