Millions of Americans work in jobs that require them to be on their feet all day long. If you're one of them, you will no doubt know the agony of aching feet at the end of the day. The good news is that a great pair of shoes can help your feet to feel dramatically better!
Whether standing or walking, after an 8-hour work day, many people suffer from foot problems. This work environment also leads to an increased risk of joint issues and other health problems.
While there are a number of ways to prevent foot pain while at work, the first step is to have proper shoes. Taking this one simple step will drastically reduce your risk of developing health problems and discomfort.
On this page, we've put together a quick guide to help you find the best shoes for standing all day. Keep reading to find the perfect pair for you!
We've know better than anyone just how important proper footwear is for standing jobs! As many of our writers and reviewers have worked their share of retail jobs in the past, we bring a personal passion to the quest to find the best shoes for standing.
To that end, we've rounded up our personal favorites, and included something for every kind of employment. These shoes can offer the additional support you need for being upright all day, and will help you to maintain good posture.
Below, you'll find our full reviews for each of our choices. We've compared them based on price, comfort, looks, and practicality. We'll help you figure out all the key differences so that you can determine which ones are best for you!
OUR TOP PICK
We recommend the
Birkenstock Super Birki Unisex Clog
because it provides strong arch and metatarsal support, as well as heel cupping. It's also designed to realign your center of gravity back toward your heels, as it is when you walk barefoot. That improves your posture, and helps reduce joint and back pain for many wearers.
The Top Most Comfortable Shoes for Standing on Your Feet All Day Are…
Product
Details

1. Birkenstock Super Birki Unisex Clog

Polyurethane
Synthetic sole
Slip-on long-wearing polyurethane clog with embossed logoing featuring removable contoured cork footbed for easy cleaning

Check Current Price

2. Alegria Professional Flats

Leather
Rubber sole
Adjustable hook-and-loop closure
Stain resistant
Slip resistant

Check Current Price

3. Alegria Men's The Chairman

Check Current Price

4. Dr Martens 1461 3 Eye Gibson Lace Up

100% Leather
Rubber sole
Leather lace-up Oxford featuring logo-embossed lateral heel and signature yellow-stitched welt
Padded footbed

Check Current Price

5. Caterpillar Second Shift Steel Toe Work Boot

100% Leather
Synthetic sole
Ankle-cut work boot with steel toe with padded ankle and oil-resistant outsole

Check Current Price

6. Birkenstock Boston Unisex Clog

Waxy Leather
Rubber sole
Waxy Leather
Synthetic sole
Comfort footbed - baked from natural cork and natural rubber

Check Current Price
Birkenstock have been making great shoes for over 200 years. Their products have a legendary reputation for build quality, ergonomic design, and buyer loyalty.
We're big fans of their entire range, and these Super Birki's are some of our favorite kicks for standing all day.
They're a synthetic clog that's miles above the competition from Crocs and other brands. They're durable, highly washable, and they come loaded with the Birkenstock cork footbed for comfort and support.
If you're a Birkenstock wearer around the house or during the summer months, you should give these a shot! They're ideal for kitchen gigs and lab work.
Specs
Polyurethane
Synthetic sole
Slip-on long-wearing polyurethane clog with embossed logoing featuring removable contoured cork footbed for easy cleaning
Pros
They're inexpensive. Compared to other Birkenstock models, these Super Birki's cost about half the price! They're also very affordable relative to the competition from Dansko and other European makers.
They're easy to clean. A lot of jobs that require you to be on your feet involve working in a lab, a medical facility, or a manufacturing plant. All those environments are messy and chaotic, so it's important to be able to clean and/or sanitize your footwear. These clogs have a synthetic construction that wipes clean easily, and can be easily disinfected.
That also makes for easy upkeep as far as smells are concerned. You can simply pop the footbed out, and wash out the inside of the clog with some soapy water to keep things fresh. Plus, these clogs have an open heel design, which helps disperse heat and keep air moving through. That's why they feel much airier than other synthetic options.
The design provides a loose but secure fit. There's enough space to allow your feet to move freely and spread naturally, yet the clogs stay on your feet.
They're incredibly supportive. Like all Birkenstock's, these come with the company's original cork and latex footbed. It's an all-natural, environmentally friendly material that provides comfort and support that's far better than synthetic materials. Cork naturally molds to your foot's profile, so you get custom support as the footbed breaks in.
They get better as they age. The great thing about both the footbed and the outer clog material is that they soften and form to your own foot over time. So, they actually improve while other shoes are wearing out!
They last a very long time. Like all Birkenstocks, these are made in Germany, from high-quality materials. Buyers report wearing the same pair for years with no issues. Best of all, you can replace the footbeds. So, you can get several pair's worth out of the same set of clogs!
Cons
They're not particularly formal. These wouldn't be the best choice for a law office, say. We like them for environments like kitchens or labs where you need footwear that can handle spills and slicks without getting roughed up.
Be careful to buy the real deal! We've found that there are a lot of fakes out there. They're designed to look just like Birkenstocks, but are sold by disreputable sellers for suspiciously low prices. Plenty of disappointed reviewers have attested to the fact that the knockoffs are awful and are guaranteed to make your feet ache! Always buy from an authorized reseller with a substantial, positive sales record.
Birkenstock footbeds are something of an acquired taste. Here in America, many of us think of a "good" shoe as something with lots of padding. That's not the view in Germany. Birkenstock wearers are more interested in maintaining proper gait and posture, using a structured footbed. It re-aligns your natural walk, bringing weight back onto your heel, which is how it is when you're barefoot. So, while these have strong arch, metatarsal support and an adaptive cork material, they're very different from memory foam or other padding that's more typical in our footwear. They can take some getting used to, but buyers are extremely loyal, and say that once you go Birki, you never go back.
They're relatively inexpensive compared with other Birkenstock models, but they're hardly the cheapest clogs on the market. We think they're a bargain when you consider the durability and quality you're getting, but you should be prepared to spend a bit more than you normally might.
For the style-minded worker, the Alegria range has some great options. This is the Alli professional flat, a closed-top shoe with a worked leather upper with a cute butterfly design.
It's our favorite Alegria style for the working woman. They're very popular among nurses, and they're versatile enough to be a casual shoe as well as part of your work wardrobe.
Specs
Leather
Rubber sole
Adjustable hook-and-loop closure
Stain resistant
Pros
The upper is made from full-grain leather, which looks and feels much more expensive than these actually are. They come in a variety of finishes, so there are a few different fashion choices to choose from.
Long-term owners we heard from said they're easy to maintain. Our favorite part about leather shoes is that they look and feel better with age! These will need a bit of conditioner from time to time, but they break in extremely well.
These shoes feature Alegria's patented insole. It's made from memory foam and cork, for the best of both worlds. Its ergonomically correct design provides arch support and midsole cushioning.
We think they're extremely comfortable. They have some of the structure we like on Dansko's and Birk's, but the extra foam means they don't need breaking in. They're cushier, too.
There's a thick rocker sole, sloped from heel to toe. The slight slope helps to tip you forward gently, which helps you to maintain good posture when standing. The rocker motion supports natural gait, and you'll have deep cushioning with every step. The rubber sole is durable and provides traction on slippery surfaces.
Unlike many other practical work shoes, these are cute and fun. You may even be tempted to wear them with jeans on your days off! Algeria uses a range of embossed materials, and features unique straps and buckles to give their work footwear a bit of flair.
Cons
There aren't too many options with this model specifically. For more fashion choices, check out Alegria's most popular model, the Paloma Flat. It comes in dozens of options.
Buyers said they run a bit small, and recommended ordering a size up. A few reviewers said that the Medium width in particular was narrower than they expected. These are definitely not as roomy in a lateral sense as Birk's!
Alegria also makes shoes for men, and the Chairman is our favorite. It's made from a high-grade leather upper, and includes a soft suede lining, cushioned rocker sole, and ergonomically correct support system-just like the womens' model.
It's simple, elegant, and authoritative. Previous buyers say they're both comfortable and light, and match nearly any professional attire!
Specs
Pros
The upper is made from full-grain leather. Algeria has also treated it with a stain-resistant coating, so it's even easier to clean and wax than the womens' options–perfect for the busy businessman! It's available in 4 different finishes, and reviewers said all the options were very easy to maintain.
The footbed is designed for maximum comfort. It's fully cushioned, using Alegria's signature blend of cork and memory foam. There's also an anatomically correct insole which provides arch support and metatarsal relief. The footbed is removable, and the shoes are designed to accommodate most orthotic inserts. The wide clog design also means that pretty much any orthotic will fit in these puppies!
The sole is smooth, but secure. The rocker sole supports a natural gait. The outsole is non-marking and slip-resistant, a rare combo to find. We also love that the material used is also very light. So, while it's a thick sole, it's not nearly as heavy as it would be if it were made from rubber!
Cons
One reviewer mentioned that the leather around the toes tends to get scuffed easily. Alegria shoes are pre-treated, but we'd recommend waxing up any new leather shoes, to make sure they're ready for the world.
Dr. Martens are a legendary brand for hip and comfortable workwear. They have lots of designs for men and women. These Gibson Lace-Ups are made of highly durable leather, with an air-cushion sole and padded inner lining.
We're recommending them as a good androgynous option for everybody. The padding and ergonomic sole do wonders for lower back pain over long workdays!
Specs
100% Leather
Rubber sole
Leather lace-up Oxford featuring logo-embossed lateral heel and signature yellow-stitched welt
Padded footbed
Pros
The leather lining promotes breathability. It also helps to wick moisture away from the skin. This helps you to avoid fungal infections and other foot health issues.
The leather outer has a water-resistant finish and is easy to maintain. It's available in lots of different color options, as well. Dr. Martens are great because they can look formal and inconspicuous, or slightly punk in the same model!
At 1.25 inches, the heel height is raised to promote good posture. This helps to relieve pressure on the knees, ankles and hips. This will help your lower back in the long run, especially after 8 hours on your feet!
Reviewers said that the slip-resistant qualities of these shoes are excellent. They are extremely stable shoes and are still slip-resistant on wet, slippery surfaces. These are perfect if you are going to be working around potential spills or icy areas in winter.
All Dr. Martens use an air-filled sole for lightweight cushion. It's an old-fashioned, less obtrustive alternative to the gel cells you'll see in new Asics. The air cells provide the same bounce, without the utilitarian look.
All Dr. Martens are covered by a lifetime warranty! Unlike many other pairs, they're easy to repair as well, and the company make it easy to find repair and replacement parts.
Cons
Since manufacturing moved to China, reviewers noted a decline in quality control. They said that sizing was a little off, so they warned to make sure exchanges are free when you order. Owners of older pairs said the new shoes felt cheaper.
These Caterpillar boots are built for serious work, whether you're a contractor, steel worker, or plumber.
They have steel toes for safety, leather uppers and shafts for comfort, and a rugged outsole for non-slip traction.
We think they're a great choice for any hard-working professional who needs a bad-ass boot that doesn't kill your feet by the end of the day!
Specs
100% Leather
Synthetic sole
Ankle-cut work boot with steel toe with padded ankle and oil-resistant outsole
Pros
They're really well-made. Caterpillar haven't cheaped out on any of the components in these boots! They have high-quality leather uppers and shafts, which are double and even triple-stitched. They're secured to the soles with a Goodyear welt. The soles are thick, durable rubber, and the ankle section of the upper is cushioned, finished leather for extra comfort. Many buyers said these lasted longer than any other boots they'd used for daily work! Full-time pros said they made it well over a year on the job.
They're easy to get in and out of for your shift. There are normal boot hooks on the shaft, but further down the boot, hex grommets make for easy lacing where all you have to do is tighten.
Padding in the heel collar helps to stop rubbing, preventing blisters. It's made of the same high-quality leather as the rest of the boot, which buyers said provides support rather than getting in the way. These are perfect if you spend hours walking on the job.
They have a very rugged outsole. Buyers said these kept their tread much longer than other boots they had worn in the past, and the rubber is oil-resistant for messy worksites.
They have ASTM-certified steel toes for safety.
Cons
The sole isn't highly cushioned, and buyers said it wears down fairly quickly. You'll probably want to swap it out for a more cushy insole at some point.
Some buyers seem to have gotten poorly-made pairs. While most reviewers went out of their way to say how durable their Caterpillar boots were, a few said theirs fell apart at the seam between the sole and the upper, or had some problems with the steel toe poking them. Since most buyers didn't report any problems, we're going to put that down to quality control rather than a design flaw. And in any case, they're covered by a 1-year guarantee.
The Birkenstock Boston is the company's most popular style, aside from the Arizona sandal. These clogs are comfort classics when it comes to being on your feet all day!
They're roomy, supportive, and they get more comfortable the longer you wear them! How many shoes can you say that about?
The best part is their versatile look, which can be dressed up or down to match practically any workplace.
Specs
Waxy Leather
Rubber sole
Waxy Leather
Synthetic sole
Comfort footbed – baked from natural cork and natural rubber
Pros
They're based around the same Birkenstock footbed that we discussed in our review of the Super Birki's above. It's a proprietary blend of cork and latex, which provides long-lasting support and cushioning while also adapting to the shape of your own feet.
When you're upright all day, you need plenty of arch support, heel relief, and room for your feet to expand at the sides. Well, these have all those qualities in spades. They're wonders if you've ever had plantar fasciitis or other foot pain while standing and walking. The deep heel cup takes all the pressure of your weight while distributing it back onto the heel of the shoe. And, being a clog, with the typical Birk shape, there's plenty of width at the front.
You can also select the Birk width that's best for your feet, since they offer two options.
There are lots of options for the uppers on your clogs as well! There are suedes, oiled leathers, finished/resilient leathers,and a few synthetic leather-look options. They're Birkenstock's, so even the synthetic options neither look nor feel cheap. Essentially, you choose the style and the level of maintenance you want!
Cons
The major downside of the Boston's, as with any Birk's, is that they're expensive. Costs vary pretty widely, especially between all the different upper options. However, they have a great reputation for being long-lasting, so you shouldn't have to buy a new pair anytime soon. Just condition the leather and apply cork sealer and you'll be good for years of daily wear.
Some of the upper style options are less hardy than others. You obviously don't want to wear suede in a kitchen, art studio, or elementary school, for instance. Messes abound, and suede doesn't cope well with water or other substances.
Some people aren't fans of the look. We get it–Birk's have a hippie reputation, and these are a classic Birk style. However, we'd encourage you to take a fresh look at them as work shoes. There are plenty of classy options, especially the oiled leather models! Plus, if any coworkers are skeptical, just ask them how their feet are feeling
Buying Guide: How To Make The Decision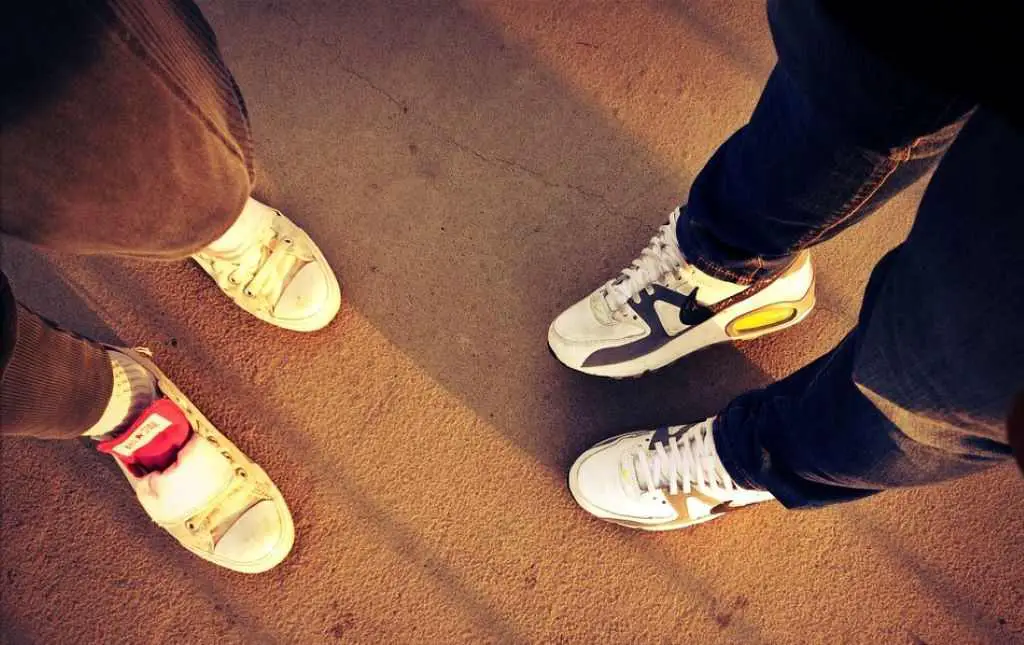 Choose Comfort Before Looks
Choose comfort before looks (but you necessarily don't have to compromise in either category). Focus first on finding a supportive footbed, then think about what kinds of finish options you can get your kicks in! Always make comfort your priority, though.
If you absolutely need something classier than is comfortable, pair them with some supportive insoles. It's more important to feel good than to insist on looking good with no help and gritting teeth all day.
There are very few dress shoes that can't be easily improved with an insert.
Can't fit a full insole in your dress shoes? No worries! Birkenstock makes 3/4 inserts you can just pop over the factory insole. Check them out in our guide to the best insoles (links on our home page!).
Buy High-Quality Footwear
Buy high-quality footwear, not throwaway work shoes. If you work on your feet all day, you don't want to skimp on support and stability. So, be prepared to invest 5-100% more on these than you would for your day-off pair.
Most people do the opposite when they shop for work apparel, and it's not a good idea! Remember: 40 hours a week is way too long to spend causing yourself pain or discomfort.
Make Sure The Shoes Fit Properly
Make sure the shoes fit properly, and exchange them if you need to. You absolutely do not want to be "making do" with even slight fit issues. If arch support is misaligned and you walk around all day in those shoes, you could screw your feet up even more!
It's worth dealing with a few annoying returns to get something perfect. Make sure to wear them around the house for a day to be absolutely sure you're happy.
One reason we direct our product links to Amazon or Zappos is that those retailers are generally very lenient around returns and exchanges.
Allow A Little Extra Space
Allow a little extra space to account for the fact that your feet will swell throughout the day! We always suggest erring on the side of loose rather than tight for pairs you'll be in all day long.
That's especially true if you work outside or in a warehouse, where you may switch socks as the seasons change. Clogs are a great choice for this reason. They fit slightly loose, which allows your feet to swell without getting crimped.
Choose Shoes With Padded Insoles And Strong Arch Support
Even if you think you don't need supportive features, make sure you have them. Otherwise, you may suddenly find that you really, really need them.
If you need to use special insoles or orthotic inserts, make sure the factory insole will be removable. Don't panic if it can't, though! There are some very good 3/4 inserts available that fit atop the factory insole.
Make Sure The Shoes Or Boots You Choose Are Wide Enough
Make sure the shoes or boots you choose are wide enough to allow your foot to spread naturally. And make sure that your socks allow for freedom of movement, too.
All-Day Shoes Shouldn't Have Raised Heels
All-day shoes shouldn't have raised heels. Your natural gait depends on having weight distributed evenly, not angled down to the toes.
So, look for something with a relatively flat profile and prominent arch support to make sure your back is protected. Never where heels or elevated boots if you're going to be on your feet for hours on end!
Look For Linings
Look for linings which will keep your feet cool or warm, depending on your environment. And if you need waterproof shoes, double check on that, too. Make sure your new pair will work for all the workplaces you find yourself in.
Choose Styles & Materials That Allow Your Feet To Breathe
Ventilation is important–choose styles and materials that allow your feet to breathe. Natural materials like leather or canvas are best, while synthetics tend to breathe the least well.
With these things in mind, you should be able to find the perfect shoe for you. The right shoes will help you work better and feel better while you work!
How To Relieve Foot and Back Pain After Standing Up All Day At Work
Final Thoughts
Now that you've read our recommendations, which shoes are right for you?
If you're in an environment that needs a dressier and professional look, you might consider the Alegria range.  It's among the most comfortable shoes for standing all day while still being fashionable.
They're available for men and women, with plenty of appealing style options. Reviewers said they're comfortable and supportive, as well as fashionable.
If you're looking for a casual look, or will be encountering liquids or other substances, opt for the Birkenstocks. Besides being very comfortable, they're easily washed and sanitized.They're also the best choice by far for folks who are concerned about ergonomics and posture as well as comfort.
The Dr. Martens are ideally suited for a warehouse or retail environment, but they're also spiffy enough for most offices. They're probably the best shoes for standing on concrete all day, too. 
And if you're outdoors or in a construction zone, the Caterpillar boots will be just right for you. They're not only great for protection, but they're also the best shoes for walking all day on rough terrain or on a construction site.
Whether you're working outdoors or indoors, finding the best shoes for standing all day is pretty important and we really think the Super Birki unisex clog has to be our top pick for its value and versatility.
Hopefully, one of these high-quality pairs of shoes will meet your needs. If you're a nurse or work in a medical setting, we've also got a handy guide to the best options for nursing shoes here.