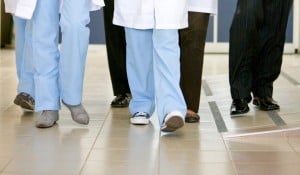 As a nurse, you're constantly on your feet. You need footwear that will give you reliable support for long shifts and longer workweeks! Some pairs on the market are specifically designed for nursing. They're often flogged to nurses as part of a uniform. However, most of those can be cheaply made, unattractive, or not supportive.
Thankfully, you don't have to settle in any of those categories! We've looked around online for the most comfortable nursing shoes which will be practical, fashionable, and professional. After all, your job is to make other people feel comfortable. So you'll want to make sure you feel comfortable and confident first!
We've put together nursing shoe reviews with our own recommendations that we think you will love! These models are popular among your fellow nurses, and span a wide range of looks, functions, and prices. At the bottom of the page, you'll find a list of things to think about while you consider the best footwear for nurses.
First, take a quick look at our current most popular recommendations:
Best Seller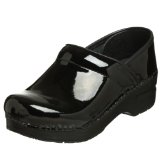 Dansko Women's Professional Patent Clog
Rating: 4.3
Reviews: 1,123
Alegria Paloma
Rating: 4.3
Reviews: 727
Skechers Women's Loving Life Memory Foam
Rating: 4.3
Reviews: 560
The best nursing shoes are:
supportive
non-slip
easy to clean and sanitize
professional
durable
affordable
Best Shoes for Nurses: Full Reviews

Birkenstock Boston Professional
Brooks Addiction Walker
Birkenstock Super Birki
Skecher's Loving Life
Dansko Professional
Merrell Pro Grip
1. Birkenstock Boston Professional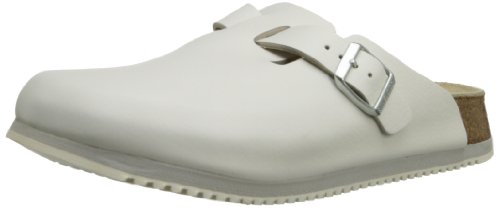 These Birkenstocks aren't your average clog! They're a revamped model from the German shoemaker's professional lineup with lots of features that medical professionals will love! They're certified non-slip, they're easy to clean and maintain, and they're really stylish. We also love how much ventilation they get with the open-heel design. Plus, you get Birkenstock's legendary insoles, which are some of our favorites for maintaining your foot health over long shifts where you're constantly on the move. They're one of the most restorative choices you can get for problem feet, and they last for years. Let's take a closer look:
PROS
These Boston's, like their casual siblings, have a finished leather upper which is extremely high-quality. Previous buyers said it felt supple and smelled luxurious. We certainly appreciate that it doesn't feel as stiff or cheap as most other professional footwear leather. Like all leather clogs, they'll soften up as you break them in, but reviewers found that they didn't experience any chafing or discomfort out of the gate. And you can make personal adjustments with the buckle strap.
Birkenstock have updated the leather finish on these clogs from their previous professional options. It's better at allowing the leather to breathe, but it still cleans easily and polishes up nicely. There are both black and white options to suit different uniforms, dress codes, and personal styles.
They're equipped with the usual Birkenstock cork footbed. If you're a fan of the company's sandals, you'll know what to expect. They break in gradually, and become more comfortable over time. They maintain strong arch support and a natural realignment of the foot using a heel cup and metatarsal ridge. And you can swap out the footbeds for other Birkenstock options should you want more cushion or a different arch height.
We love the cork footbed for standing all day and walking around a busy ward because it encourages good posture, which saves your back and joints. Since it also breaks in according to your specific foot shape, it's a great combination of anatomical design and a personalized fit. Previous buyers loved theirs, and said that once they got through the break-in period, they felt fantastic.
They're slip-resistant, thanks to a specific insole that you won't find on the non-professional Birkenstocks. It's equipped with lots of smaller treads which help it maintain traction on wet or slick floors where other clogs can be a real safety hazard. Previous buyers said they were extremely reliable in the traction department!
They're made in Germany, like all Birkenstock's. That's to say they live up to the company's reputation for extremely well-made shoes from quality materials. Previous buyers didn't have any complaints about durability whatsoever! And buyers who bought these once said they planned to come back for more.
In fact, the loyalty you'll see from Birkenstock buyers is one of the most impressive aspects of these shoes. Buyers keep coming back for years, because they find these are the absolute best professional clogs out there, in feel and quality.
CONS
Birkenstocks aren't for everyone. Cork footbeds take some breaking in, and they aren't ever as bouncy as a lot of American soles. So, if you're someone who wants more bounce than structure, these might not be for you.
There aren't too many color options. The Boston's just come in black and white color schemes, which we realize is relatively plain. They're not going to be for folks who want something bright and colorful. On the upside, they're easy to fit into a dress code.
2. Brooks Addiction Walker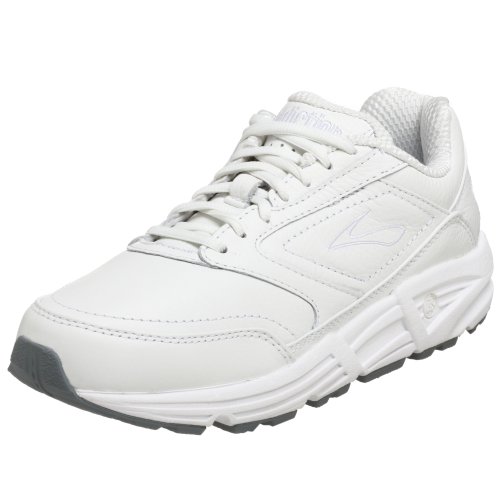 These Brooks are designed for maximum comfort. Recommended by many doctors and physical therapists, they're a great option for people with foot conditions/chronic discomfort. Many buyers with joint problems in knees and ankles, as well as hips, found relief with the Addiction's. If you have pronations or other serious ongoing problems in your long shifts, try these! They're our top choice for stability shoes, and we love the customizable insole, which is compatible with nearly any orthotics.
PROS
They provide incredibly supportive cushioning. Many reviewers said that the Addiction Walkers were recommended by their podiatrists. The support comes from a thick sole with layers of rubber and foam under the foot. The built-in, structured insole is also removable for buyers who want to use orthotics.
There's also plenty of cushion along with the structure. The Brooks have one of the thickest soles on the carpet, so there's plenty for your feet to sink into. Lots of previous buyers wrote that their feet had never been more comfortable in a sneaker. That extra cushion really comes in handy for long hours and long distances on your feet.
They're simple and low-maintenance. Reviewers said they fit true to size. The outsole is slip-resistant, and buyers said  that the leather finish is easy to maintain. Previous buyers said they ended up with the black ones because they scuffed much less often. They also said using a magic eraser was a great way to keep white ones looking spic and spam.
CONS
They're not much to look at. Between the bulkiness of the sole and the lack of style options, some reviewers found them a bit too practical for their taste. These certainly aren't the best choice for workplaces with formal dress codes, or nurses with a keen eye for style.
They fit snugly, so they won't be very accommodating of heavy socks. If you wear heavy socks or use orthotic insoles, reviewers recommended ordering a half-size up.
3. Birkenstock Super Birki Unisex Clog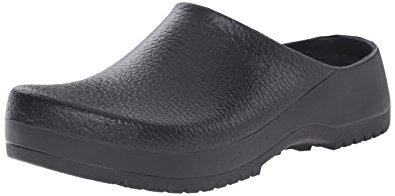 These Birkenstocks are an excellent unisex choice for both male and female nurses. If you're a fan of Birkenstock sandals or insoles, you know what to expect from these clogs. They have an anatomical structure which will get you back to walking naturally. Reviewers say they reduce back and joint pain, and improve posture significantly. We're big fans of Birkenstock here at Best Walking Feet, and we think these are some of the most ergonomic nursing shoes you can buy.
PROS
They're slightly wider than usual American footwear. That's a big benefit over long standing shifts, since the clogs can accommodate your foot's natural swelling.
They come in two widths, so you can find your perfect fit.
They come with Birkenstock's legendary insoles, made from natural cork and latex. Here at Best Walking Feet, we count these insoles among our very favorites. Here's why:
They do wonders for your posture and gait. By properly supporting your arch and metatarsal dome, and bringing weight back onto the heels, these will help you stand up straighter and walk more naturally. Many users find that these clogs help with back pain. One other common praise that we can personally attest to is that Birkenstock's reduce many joint pains.
That's because as nice as that pillowy cushioning in American kicks might feel, it's simply adding more wobble and bounce that throws your joints out of whack. That's why they get so sore. The Birkenstock's will get everything moving with proper alignment, which reduces pain and inflammation.
They mold to your foot. While synthetic, rubberized insoles hold their shape, and foams wear down, cork simply adapts to your own foot's profile. That means you'll get a personal fit, along with the strong arch and metatarsal support that's already built into the footbed.
It might seem counter-intuitive for a firm sole to provide relief, but loyal Birkenstock wearers say that the design of these insoles are the absolute best for getting through a long day of standing. We couldn't agree more. These are some of our favorite shoes for keeping yourself upright and alert all shift long.
You can also swap the standard footbeds out with one of Birkenstock's other footbeds. They make a few different options for people with more specific needs, or folks who prefer a softer padding.
They're the opposite of most footwear in that they get more comfortable the longer you wear them. The benefits of the synthetic clog material and the natural cork is that they both soften over time. The clog will become more flexible in the upper, and the cork will mold to the shape of your foot. The result is that these age incredibly well.
They're super easy to clean. The synthetic outer is easy to sanitize, since it's not delicate like leathers, and there's no finish to maintain. The cork footbed is also removable for easy cleaning. If your Super Birki's get smelly on the inside, you can just pop the footbed out, and wash the clog with soapy water.
They're relatively inexpensive. Compared to other Birkenstock models and comparable European brands like Dansko, these are significantly less heavy on the wallet. Prices fluctuate as with many imports, but many buyers find these quite affordable!
They have good traction. The outsole of the Super Birki's looks a lot like a traditional walking shoe, with individual treads all along the bottom. They stay secure on wet or slippery floors, and previous buyers had no complaints about finding proper traction with these.
They last for years. One of the biggest reasons that Birkenstock buyers tend to be so loyal is that the company make products that last several times longer than other footwear. All Birkenstock's are made in Germany, from high-quality materials. They're much more durable than the synthetics used in Crocs or other pairs like these.
The best part is that you can keep refreshing your clogs to make them last even longer. Since the footbed is replaceable, you can get through several sets of clogs without having to buy new ones!
CONS
Knock-offs abound for Birkenstocks, so make sure you're buying from an authorized reseller with a good reputation. Many buyers who posted negative reviews received knock-offs that were poorly made and much less comfortable than the real thing.
One other word of warning: as with Dankso, Birkenstock is a European company. You'll want to be sure to get the correct size before you buy. You'll often have to pay return shipping on these, so if you're not seeing "free returns" listed, be extra sure to measure your feet up front, and check the sizing chart on the Birkenstock site.
In general, you'll want to order one Euro size down (so, if your American size converts to 40, you should probably go for a 39 in these. If you have a tape measure handy, here's an added benefit of buying Birkenstock: they're sized on a millimeter scale, so you can see exactly where your feet fit on their sizing chart. Just measure the length of your foot in mm to find your exact Birk size.
They're Birkenstocks. If you're not familiar with the German company, that means they will be incredibly supportive and promote good posture. And, as you wear them in, the cork footbed will mold to your own foot shape for a perfect fit. However, there's a significant break-in period where you might find the stiff footbed fairly uncomfortable.
You should also know that the Birkenstock approach to foot ergonomics is a bit different from many American companies. They're aimed at providing structure, more than cushion. These footbeds are almost certainly better for you in the long run, but they can take some getting used to. And, if you're attached to the more cushioned American-style shoes, you simply might not like them.
They're not the most attractive shoes in the world.
They don't have quite as good ventilation as leather clogs, and some buyers complained that their toes got a bit sweaty.
4. Skechers Women's Loving Life Memory Foam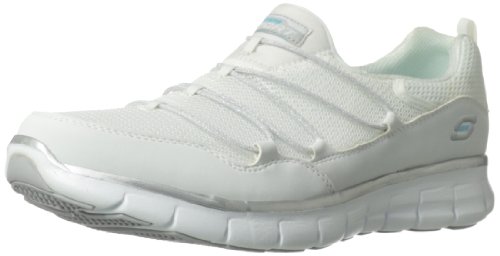 These Skechers are our favorite option for nurses on a budget. They're simple, cushy, and very inexpensive. Plus, they're washable, which makes them a great choice for people who work in messier situations and need something they can clean regularly.
PROS
They fit super comfortably, like a slipper! The mesh upper is breathable and flexible. It's designed to fit and feel like a slipper or sock.
We also love how darn light these shoes are. They're made entirely from foam and mesh fabrics, so they're much lighter and less clunky than clogs or bigger shoes.
The memory foam sole is adaptive and supportive. Memory foam isn't something you'd traditionally find in footwear, but it's been increasingly popular of late. That's because unlike other soles, it'll shape itself to your specific foot shape. Lots of nurses and techs said in their reviews that while they had tried Crocs, orthopedic shoes, and other alternatives before the Skechers, these were the shoes that finally allowed them to get through 13 hours on their feet.
There's also a flex-groove outsole underneath the memory foam, which provides traction and flexibility.
Overall, reviewers were pretty unanimous that the memory foam was a massive relief over the course of the day. We found that even people who suffered from acute plantar fasciitis symptoms found relief with the Skechers. They're an excellent choice for people who don't have specific foot issues or abnormalities, but rather need to cope with the sheer strain of standing and walking for long nursing shifts.
CONS
A couple reviewers warned about slip-resistance on wet floors. These definitely don't have traction like the Timberlands or Merrells.
They're not formal in appearance.
The upper is very tight on first few wears, but reviewers said they break in nicely. They're very elasticated, which helps out for that first break-on period.
Some reviewers found that these weren't supportive enough for their needs, and that they needed something more structured. Since the memory foam insole doesn't have any particular structure in the arch or heel, these are the best choice for people with no foot issues, who want something fairly neutral.
5. Dansko Women's Professional Patent Clog
Dansko is one of the world's most renowned brands of standing/work shoes, with a high reputation for quality. These are their most popular model. They have Dansko's signature cork insole, and an elegant leather upper perfect for maintaining formal style. Previous buyers say the unique sole design does wonders for joint problem and promotes proper back alignment. We love them for a classy nurse who wants a comfortable shoe that won't cramp her style.
PROS
They're professional, practical, and very fashionable. They are handmade with a leather upper, which comes in a wide range of finishes. There are plenty of options to choose from, with simple black leather, or elegant worked designs for more fashion-conscious nurses.
They're designed for all-day comfort, thanks to Dansko's signature clog style. Built-in arch support promotes good posture and reduces stress. The collar is lined for comfort, which prevents friction. The rocker bottom reduces fatigue and pressure on joints. Previous buyers starting out in nursing wrote that they were apprehensive about buying a solid clog at first, since it seemed a counterintuitive choice for standing all day. However, in speaking with other nurses, they found overwhelming support for the Dansko's. They're not a cushy shoe, but they have outstanding ergonomics, fit true to size, and stay firmly on your feet, unlike some lesser clogs.
The sturdy cork sole certainly might seem a bit counterintuitive. After all, cork is much harder than the foams usually found in insoles. However, the special European insole design has been loved for centuries because it encourages proper posture, and doesn't allow the body to collapse in key stress points (arch, knees, hips, back). Having a shoe which provides real structure helps many nurses work long standing shifts without developing aches and pains.
They're easy to clean. The patent leather finish wipes clean easily, and can handle the occasional alcohol wipe. However, you may have to touch up the finish regularly if you're disinfecting these every day.
Popularity isn't always an indicator of quality. In this case, though, the overwhelming support for Dansko's among lifelong nurses speaks for itself. These are a tried and tested solution that's been around for decades for a reason!
CONS
Dansko is a European brand, so the sizing is a bit different. Reviewers said they run small. You'll have to order a size and a half up.
Some people don't find them comfortable. That's because they're not particularly cushy. They work by providing a solid, supportive base for good posture, not by providing a pillowy footbed (like the Brooks Walkers, above). This is a matter of preference, so be prepared to test drive these before you decide whether to keep them.
6. Merrell Pro Grip Work Clog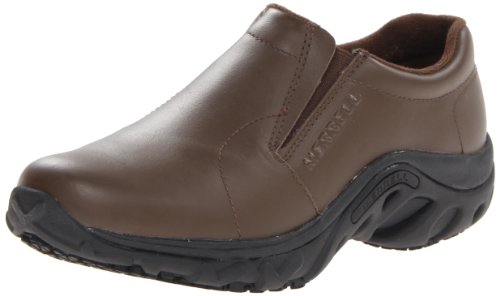 Merrell's shoes are well-known for their comfortable practicality. These Work Clogs are no exception. Their cushioned, have strong traction, and an easily-cleanable outer material. We think they're the best choice for messy, unpredictable workplaces. They'll keep your feet warm, dry and protected in nearly any work environment. They're a favorite among kitchen workers and warehouse employees as well as nurse, since they're so rugged! Ideal for the rough and tumble nurse (available for men and women)!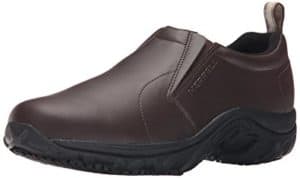 PROS
They're very practical. The synthetic upper resists stains and scuffs and is easy to clean and sanitize. The slip-resistant outsole provides traction and sure footing. All these features make them a great choice for the messiest medical settings.
These are a favorite among ER nurses in particular. They're easy to slip on in a hurry, which is ideal during rushed mornings and unexpected calls into work. ER nurses said they're as comfortable as tennis shoes, and the rugged leather outer layer is easy to sanitize in case of blood or other less savory materials getting on your feet. They also won't slip on wet floors.
There's a removable EVA footbed, which can be exchanged for orthotic inserts. The lining is also made of breathable mesh, to reduce sweat and odor. Reviewers said they fit very well. Many previous buyers wrote that they had excellent support over a long, unpredictable day. They were surprised that a slip-on could be as supportive as a lace-up shoe!
The roomier body means there's more room for orthotic inserts, which can be hard to fit in some tighter shoes (like the Timberlands).
Merrell have an unparalleled record for durability. These shoes are no exception! And since there's hardly any stitching on them, there aren't really any weak points to wear out! Loyal wearers also stressed that the cushioning stays comfy over time, too. Many wrote that their year-old shoes were as comfortable as the first day they'd been worn.
They're available for both male and female nurses, and there are gender-specific versions for each. We love when manufacturers make the effort to take a shoe platform as good as this and make it anatomical for both genders, rather than trying to make a one-size-fits-all style that doesn't serve anybody well.
CONS
Some people needed additional inserts, as they weren't cushioned enough for them. These aren't as cushy as some of our other recommendations. Instead, the Merrell footbed places more of an emphasis on anatomical support and structure. If you need extra padding, it's definitely a good idea to slip something extra into the footbeds.
The treads have cracks which are just the right size to pick up little pieces of gravel. When these get stuck, they can scratch floors inside. We wouldn't recommend wearing these on a walk to work, if you'll be going on lots of small gravel or crushed stone. They're better left in a work locker if that's the case.
Buying Guide: How to Choose the Most Comfortable Shoes for You
Comfort
A good pair of women's nursing shoes should be comfortable enough to stand in all day. You'll want a fair amount of cushion, and a well-designed sole, to reduce pressure on your feet and joints. Lots of these shoes have rocker bottoms, which are a rounded shape designed to help you move more naturally from heel to toe, as you would in an athletic shoe.
Others will have foam cushioning, or strong arch support. Try to find the right balance between structure and cushioning. This will be different for everybody, since all feet are shaped differently. In general, though, we encourage structure over cushioning. It might seem counterintuitive, but a firmer, more anatomical footbed will often result in healthier feet than something super pillowy.
You'll also want to find shoes that will stay cool. Many models have odor-resistant, heat-wicking linings designed to help with this. Shoes with mesh uppers will be the coolest option, but clogs and more open heel designs are also less prone to heat-retention and sweat buildup. As you compare materials, you'll have to balance waterproof finishes with those that breathe well. What's a higher priority for you?
Practicality
In a nursing environment, you'll no doubt come in contact with more than a few things that will  require washing. So you'll want a shoe with a surface you can sanitize. Synthetic uppers can take heavier duty cleaners, and are simple to wipe down. Many leather models will also be easy to clean and maintain, as long as they have a relatively heavy finish, and you make sure to keep the leather oiled and conditioned.
If you're working in a particularly dirty environment, you might want to stay away from fabric or patterned and tooled leather. Fabrics pick up dirt and stains almost instantly, and fancy leatherwork isn't something that's practical for a medical facility. Some fabric shoes, like the Skechers model we've looked at, are machine-washable.  However, no fabric options will be waterproof unless you apply a coating yourself.
It's also important to find non-slip soles. You'll want a decent amount of traction, especially in case of a spill. Natural rubber outsoles do much better on hospital floors than synthetic materials.
Style
You want your nursing shoes to be practical, but it's important to be able to bring a bit of your own personal style to the workplace. Of course, you'll want to coordinate your shoes with your scrubs or uniform. With that said, we've tried to find some options that go beyond the normal scrub shoes and Crocs in terms of stylish but professional appearance.
Our choices have lots of color and style options as well, especially the Alegrias and the Danskos. You know your workplace requirements, so try to find the right balance between fashion and professionalism. If you need plainer options, look to the Merrells and the Timberlands for simple, functional design. Otherwise, find something that brings a bit of personal flair to the table!
Price
Your nursing shoes are your work shoes. They probably won't be shoes that you wear around the house, or out on the town. So, they might not be a big investment for you. Maybe you're the sort of person who wants to be able to replace them easily, in case of a big spill or other workplace hazards.
Then again, if you've got a long workweek, and spend more time at work than at home, these might be your primary shoes after all. It could be worth the investment to get a great pair of nursing shoes. Your price point will depend on your own schedule and lifestyle.
Be sure to consider the environment you work in. If you're in a relatively classy private practice, you probably don't want to wear something as utilitarian as you might in a general ward.
Conclusions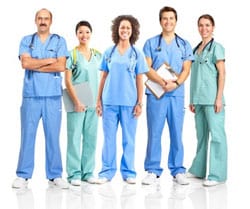 We've covered a range of footwear options. As you've seen, there's quite a variety available. So, which do you choose? The Alegrias and the Danskos are probably the most fashionable. They've also got the most options for styles. The Timberland Renovas are also simple and elegant. They're more cushioned than the Danskos or the Alegrias.
The Brooks and the Merrells are the most practical options. The Brooks shoes are almost guaranteed to be comfortable. However, they're also very utilitarian in appearance. The Merrells are easily cleaned and sanitized, and are reasonably well-cushioned. However, they don't come with many color options. For a lightweight, comfortable option with low replacement cost, check out the Skechers Loving Life. They're washable, cozy, and you won't have to worry about damaging their finish.
If you didn't find what you're looking for, or are interested in more of our picks for the best footwear available, check out our guides to the best walking shoes, running shoes, and shoes for standing all day. We've also got you covered for shoes best suited to plantar fasciitis and flat feet, as well as high arches. Check out all our comfortable shoe reviews at bestwalkingfeet.com. Happy shopping!