If you have plantar fasciitis, you know the pain being stuck in unsupportive footwear!
Shoes without proper arch support and cushioning can aggravate your symptoms and prolong the condition.
To combat this, many people with plantar fasciitis opt for sneakers as a one-stop solution!
A good pair of sneakers can relieve symptoms by providing badly-needed cushioning, support, and stability.
Not all sneakers are created equal, though, and there are lots to choose from.
You'll need to make sure you find sneakers with adequate support for your feet, and enough cushion to relieve your symptoms.
It can be hard to tell which ones are worth the money!
We've done some of the work for you, and have come up with a list of top choices for the best sneakers for plantar fasciitis 2019 that will give you relief and support in just the right places!
The Best Sneakers for Plantar Fasciitis Are:
Best Lightweight Shoes
Our Rating: 4.6
Popularity: Low

Best Support Shoes
Our Rating: 4.6
Popularity: Medium
Our Rating: 4.6
Popularity: Low
Best Sneakers For Plantar Fasciitis Reviews
Available in Men's and Women's versions, these are the latest version of one of Nike's most popular styles.
We love them because they're lightweight enough for all-day wear, but have the padding and support of a capable racing shoe.
They're a good choice for folks who benefit from a bit of bounce in their step to relieve P.F. symptoms.
PROS
There are lot of options for color combinations (10 for men, and 10 for women). That's a lot more than most sneakers, and plenty of choices for you to find the one that suits your own style.
The mesh outer material provides a sock-like fit. This is important, because if the arch support shifts too much during the day, you'll aggravate your P.F. The sock-liner keeps all the supportive features lined up properly.
These shoes use Nike's ZOOM cushioning. Made from an airy, lightweight foam, it's designed to bounce energy back. We love it because you get a little extra forward momentum with every step! Plus, it provides full-foot padding, with additional heel support. Overall, this is one of the springiest pairs we've ever reviewed, and we're loving them.
This is an updated model, which has some nice design refinements over the previous version. They're a bit lower to the ground, and are designed to give you a more realistic road feel. That doesn't mean they compromise on padding, though. They simply ride lower, which helps you get more bounce with less wobble. Reviewers overwhelmingly agreed that these were the best Pegasus yet!
Previous buyers said the Pegasus strikes the right balance between cushioned and supportive. They felt a tangible difference in how their feet and knees felt, especially after longer runs and races.
CONS
They don't have overly deep cushioning. The updated Air Zoom material is lighter, which is an advantage for speed, but some reviewers found it less cushy than the old models. It's more of a spring than a pillow. Of course, we're recommending these as everyday shoes more than as a set of running kicks, so you shouldn't have any problems going about your day.
They run a bit small. Reviewers recommended buying a half size to a size larger than normal.
Asics has perfected the comfortable shoe for people with bad feet. Their styles are deeply padded, and feel like each foot is riding in an ergonomic armchair!
The Gel Kayano is one of their best-selling shoes, and is suited to anyone with foot issues like plantar fasciitis.
You can find them in models made for men and women. We think they're the safest bet for people who need lots of cushion first and foremost.
These will get you through your day without you feeling any impact or aggravating your P. F.
PRO
This updated model is the lightest yet. The Kayano 20/21's are still very popular choices, and reviewers agreed that the Kayano 22 is even better. It manages to maintain the cushioning of the old model while dropping weight. That addresses one of the only downsides of the old Kayanos.
A motion control shoe, the Gel Kayanos provided intense support and overall stability to reviewers. They're ideal for people who have pronation due to raised or fallen arches. The Kayano's will help your feel move straight, without wobbling. Plus, they're not as clunky as a lot of motion control shoes, so if you're fashion-conscious, these are the ones for you.
The "stretch-fit" upper provides a mixture of flexible mesh and stabilizing reinforcements to properly hold your foot. The effect is that it creates a sock-like fit which moves with you, allowing your feet breathing room without letting you slip.
They're perfect for plantar fasciitis. There's strong arch support, and plenty of padding. Previous buyers said that the combination did a very thorough job of relieving their symptoms.
CONS
Some reviewers found the cushioning too "squishy" for their taste. These are heavily cushioned shoes, so they don't provide a lot of road/surface sensation as you run or walk. They're more cushy than bouncy–the opposite of the Nike's.
The new model uses an internal sock-liner, which some people said made the shoes fit a bit smaller than expected. We'd recommend going a half size up.
They are more expensive than some of our other options. Asics generally command a premium price tag, and these are no exception.
These Mizuno running shoes work with a Wave cushioning system to distribute impact away from pressure points in the foot.
They're sleek, smooth, and come in lots of cool color options. We think they provide a nice midpoint between the Nike's realistic road feel and the Asics stability features.
The 5th edition of the Wave brings back a little more cushioning to balance out the streamlining and structural features that made the 3rd and 4th editions such mixed bags for our reviewers.
PROS
They use a unique anatomical lacing, which slips on without having to be tied. According to Mizuno, a skin-like material makes up the upper fit more closely without constricting the foot's natural motion. We found that previous buyers said there's no slippage, but the shoes don't feel tight or restrictive. That's super important on long runs, since your feet will swell slightly. It also comes in handy if you're wearing these all day as your go-to kicks.
They're ideal for heavier runners. The Wave system is made from hard plastic, which won't collapse or wear down like foam. Plus, there's plenty of foam cushioning on top to protect heavier people's joints. Heavier runners said they were great for relieving normal running pain, as well as P.F. And, of course, all that just means that heavier walkers will see the same relief!
The full-length "Wave" cushioning is designed to provide support from heel to toe. It's a firm but smartly-engineered piece of plastic which absorbs impact along a spring-like length. It's very lightweight, and stays supportive longer than many materials. Foam midsole cushioning decreases weight while maintaining depth.
CONS
Reviewers said they were expensive, and didn't last as long as they had hoped for the price. The mesh upper is the major weak point, and while most reviewers didn't have any complaints, some users found that their toes came through the mesh in just a few weeks.
The 5th edition of this shoe is our favorite yet, but it does fit slightly different, especially in the toe. This one's a bit narrower than previous versions.
Some reviewers complained that the Mizuno is somewhat heavy. That's the one downside of the plastic wave feature, which is pretty solid (at least more so than foam).
The updated model of one of Brooks' most popular running shoes offers adaptive cushioning, a rounded heel and impact-dispersement technology for a comfortable and supportive ride.
It's available in models for men and women.We love the segmented sole, which gives you more ground contact and a more realistic road sensation without sacrificing cushion!
PROS
A specially molded midsole creates adaptive cushioning. It's 25% more cushioned than other Brooks models, and provides cushioning for your whole foot. 3D-printed support cushioning uses a foam material to create a supportive footbed at a reduced weight. Reviewers said the new Glycerins are extremely comfortable–the best in the lineup. In addition to arch support, they also have a padded, reinforced heel.
The adaptive cushioning is our favorite feature for P.F., since everyone's symptoms and needs are slightly different. These shoes will give you exactly the support you need!
These shoes use a segmented sole for smooth transitions. The outsole is designed to optimize impact distribution as you run. This prevents discomfort in traditional pressure points along the foot and joints. Plus, the heel is rounded, helping you maintain ideal alignment.
There's a mesh upper to keep you cool. It uses Brooks' 3D Fit Print technology to create a snug but flexible fit around the whole foot.
They're the best choice for people with raised arches, who need a bit of an extra boost. According to Brooks, these shoes are ideal forneutral to underpronators. They're meant for runners with medium to high arches who like a fairly cushioned ride. Reviewers said they relieved joint and foot pain, and kept everything in alignment. They have the right balance between support and cushioning that you need to conquer plantar fasciitis.
CONS
They're pretty expensive. Older versions of the Glycerin are available for a lower price, but the cushioning isn't quite as responsive, and some older models don't have the key reinforcements.
These motion control shoes from Adidas counter pronation and provide strong arch support and stability through the sole.
There are models available for men and women. They're the most structured shoe here, and are the best choice for people who have P.F. and lots of pronation and wobble around the ankle.
The 9th edition adds the new Adidas Fit Band, which is designed to have a gentle but snug sock feel around your foot.
It's one of the least restrictive-feeling stability shoes on the market right now, which is why we love it for severe pronators.
PROS
These shoes feature an EVA stable midsole, which will provide cushioning while molding to your natural foot shape. It's the best choice for people who don't naturally run straight. Adidas Boost technology is designed to be energy-returning and lend itself to forward motion. It's made of a lightweight, air-filled foam. As with Nike's Zoom foam, we like the Adidas material for its increased forward momentum.
Previous buyers wrote that these shoes corrected their overpronation and resolved many other foot and knee problems they were experiencing. Even a slight pronation can lead to lots of stress up the leg and into the back, so it's important to address any wobble at your ankle before it causes trouble elsewhere.
They're better built than most running shoes. There's a tough but light mesh upper, which is designed to provide a sock-like fit, much like our other recommendations. The durable outsole is designed to be grippy even in wet conditions, so these will be great for you if you live in a rainy or snowy area. We've also found that the soles on these tend to last longer than other models. Reviewers said the Supernovas were very long-lasting, making these a good investment. They ran each pair for around 2 years of hard, daily running before needing to replace them.
CONS
These aren't for off-road use. While the soles are non-slip, reviewers said that these shoes are definitely not suited to unpaved surfaces.
These New Balance shoes are available for men and women. They use low, segmented cushioning to provide the support of a stability shoe without being too clunky or elevated.
New Balance says they're built for people with moderate to severe overpronation.
We think they're a comparable shoe to the Brooks', but with a bit more padding for heavier people or runners with fallen arches.
If you have flat feet and still want to run races, these are for you!
PROS
There are several layers of cushioning built in. First, there's a full-length sole cushion which is designed to be responsive but low-profile. Then, there's a full-foot shock absorber which moves pressure along the foot and away from stress points. The whole thing is topped off by an Ortholite insert with foam cushioning and superior ventilation.
They're very durable. New Balance has reinforced the outsole in key areas. Reviewers who had owned previous versions of this shoe say the new material makes a big improvement in durability for this one.  One reviewer said that the cushioning typically began to wear down after about 600 miles of hard running.
They also use a midsole shank and support system to correct pronation. We really appreciate the additional support and stability from a relatively low-profile shoe. They provide the stability of a motion control shoe without all the bulk and clunk. That makes them an excellent choice for pronators who want something with unobtrusive correction.
CONS
Some reviewers weren't happy with the included insole, and switched it out for a gel or orthotic insole. It's definitely focused on padding rather than corrective arch support.
There are only two color options.
What To Think About Before You Buy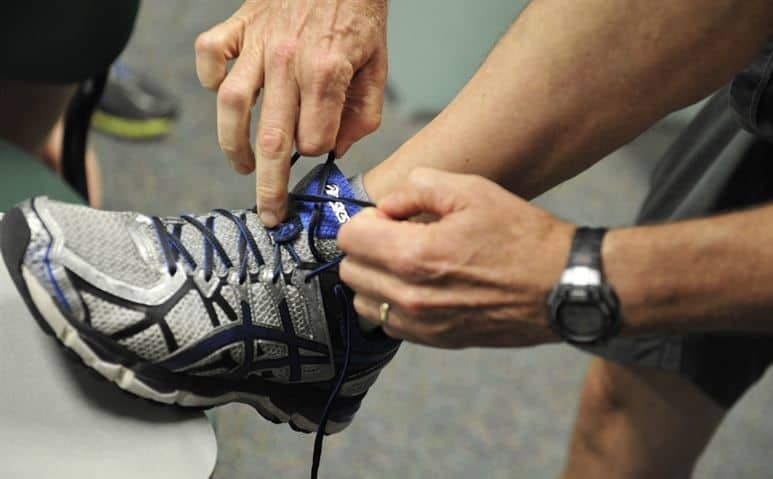 What Makes You Feel Most Comfortable?
There are a lot of different variations when it comes to sneakers, so make sure you know which ones feel the best to you before you start shopping!
Figure out how much of an arch support you want, how much padding you like, and how high you like your soles to be. Do you like to feel the road, or float above it?
Do you want something with lots of bounce, or something with more structure? Sorting out all your individual preferences up front will make your search much easier.
Are You Wearing These For Running, Or As An All-Day Shoe?
When we were writing this guide, we specifically looked for sneakers that would be comfortable to wear all day.
But many of the models we've recommended are great running shoes in their own rights, so think about whether you'll be using these for running and casual wear, or just one of those uses.
If you're going to use your sneaks for running, you probably need a fair amount of cushion and bounce.
If you're wearing them only to work and around town, that bounce might be annoying.
Which Sneakers Are Right For You?
If you've got more severe plantar fasciitis, the Adidas Supernova and Asics Gel Kayano have more pronounced arch support and corrective cushioning than our other choices.
They'll be the best choice if you have more noticeable pronation or other wobbles. The Nike Zoom Pegasus is a great lightweight option that provides relief without adding too much weight or bulk.
These are also good sneakers if you want to wear them for sports or casual day wear.
The Brooks Glycerin and the New Balance 940V2 are versatile like the Pegasus, but place more of an emphasis on stability and support.
They're also both very durable. We love them for a natural road feel without all the pain of a traditional running style.
And the Mizuno Wave Prophecy is a solid choice for people who want a truly low-impact run.
They distribute stress very well, and don't have as corrective of a ride as the Supernova or Gel Kayano.
Final Thoughts
When weighing everything up, we've decided that our number one recommendation for best sneakers for plantar fasciitis are the Nike Zoom Pegasus for their light feel and optimal comfort.
Want more? Check out our picks for all the best shoes for plantar fasciitis. And if you're suffering from plantar fasciitis as a result of having we've got you covered with our best shoes for flat feet reviews.