Finding the perfect pair of walking shoes can be a difficult task. But don't worry — we've helped hundreds of folks find the shoes that were the best choice for them, and we can help you too.
We've gone through the plentiful choices out there for women's walking shoes, and have narrowed them down to our top 3 favorites.
The Saucony Grid Omni Walking Shoe for Women is our #2 choice. Check out our top 3 list to see the other shoes we've chosen.
There are several things about the Saucony Grid Omni Walking Shoe that we really love. The first thing is its price.
Priced under $110, it's one of the most affordable high quality walking shoes out there today.
We also appreciate that this shoe is great for those with wide or flat feet, as it can be particularly hard to find shoes for these types of feet.
The Benefits Of The Saucony Grid Omni Walking Shoe For Women
The Omni Walker provides superior feet cushioning and heel-centered stability for a safe and balanced stride.
Choose from white/silver or black color options that will go with any style.
The Saucony Grid Omni Walking Shoe features a Walk Trac patented outsole design for a smooth walking transition.
The engineered Asymmetrical Sole provides a more bio-mechanical fit.
Includes a premium sock liner.
These shoes are constructed from a responsive EVA/rubber compound that provides plenty of cushioning and support in the right places.
What Do Owners Say About The Saucony Grid Omni Walking Shoes?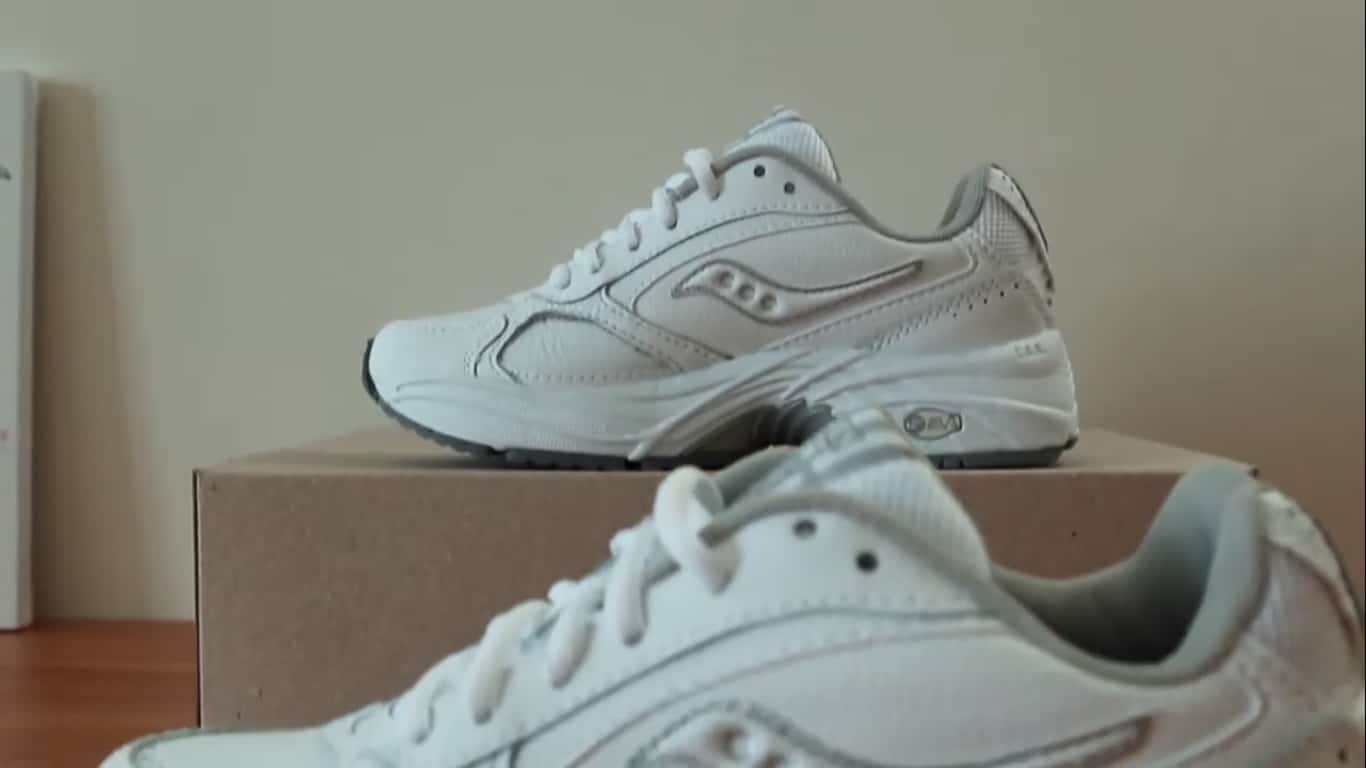 Female Saucony Grid Omni owners rave about the performance of this shoe, making note that they are priced well for their high quality build, cushioning, and support.
Other reviewers appreciate the roomy toe box, saying that these shoes allow them to be excited about exercising again.
One customer calls these shoes the best pair of walking shoes she's ever owned. Others have found that they love the lightweight quality of this shoe as well as the thick sole and great treads.
On the flip side, some owners of the Saucony Grid Omni Walking Shoes feel that these shoes are not a good option for those with high arches.
There were also a few reviewers who mentioned that these shoes started squeaking after a little wear, causing them to go for a different option.
And yet another reviewer commented that these shoes made her feet look too large, almost like a men's shoe would.
Conclusion
The Saucony Grid Omni Walking Shoes for Women are an affordable, comfortable shoe option for those women who want to walk in comfort.
They're priced right, they look great, and reviewers overall seem to be very happy with these shoes. From flat to wide feet, these shoes provide a great fit, plenty of cushion, and a price that can't be beat.