Flat feet can be a prominent issue for men because it hinders them from performing some tasks. They can quickly get tired of walking and standing for long hours. They tend to pronate when they're running, so they can have injuries too. Fortunately, they have recourse because the shoe manufacturers produce footwear specifically for their needs.
If you have flat feet, you don't have to suffer from ill-fitting shoes anymore. You now have several options, even for work shoes. Check the list below for some of your alternatives. You can also read the buying guide to help you when you purchase your next pair.
OUR TOP PICK
If you're a busy person, you can consider this favorite footwear of flat-footed men. The
Nike Men's Revolution Running Shoe
is lightweight, and its mesh upper is breathable. The soft midsole has excellent arch support and cushioning.
The Best Shoes for Men with Flat Feet Are:
Product
Details

1. Nike Revolution 4

Sneaker
Textile upper
Rubber sole
Soft foam midsole

Check Current Price

2. Ecco Helsinki Slip-On for Men

Loafer
100% cow leather
Synthetic sole

Check Current Price

3. Dansko Wyatt Loafer for Men

Loafer
100% full-grain leather
Synthetic, non-slip sole
PU midsole
Seal of Acceptance from the American Podiatric Medical Association for the outsole

Check Current Price

4. ASICS Gel Kayano 26

Running shoes
Mesh upper
Rubber sole
Organic nanofibers for the midsole

Check Current Price

5. Adidas Performance Thrasher 1.1 M

Trail Running Shoes
Textile/Synthetic upper
Rubber sole
Injected EVA midsole

Check Current Price

6. Brooks Adrenaline GTS 20

Running shoes
Synthetic/mesh upper
Rubber sole
DNA Loft crash pad cushions

Check Current Price

7. Mizuno Wave Inspire 14

Running shoes
Synthetic, air mesh upper
Rubber sole
Mizuno U4ic foam for midsole

Check Current Price

8. Saucony Guide 13

Running shoes
Synthetic, mesh upper
PWRRUN midsole
Crystal rubber sole

Check Current Price

9. New Balance Fresh Foam Vongo V2

Running shoes
Synthetic, mesh upper
Rubber sole
Fresh-foam midsole

Check Current Price
I like Nike Men's Revolution 4 because it's affordable, and it's great for flat feet. The sporty mesh upper makes it very lightweight and completely breathable. The shoes also have a soft foam midsole that offers cushioning and arch support that a flat-footed guy fully appreciates. I have one complaint, though. These shoes are only for light running because they wear out quickly.
Specs
Sneaker
Textile upper
Rubber sole
Soft foam midsole
Pros
Molded pods for responsive cushioning and multi-surface traction
Underlays provide structure and support
Minimalist design
Lightweight and durable
Cons
For light running only
Gets worn out fast
If you're flat-footed and searching for running shoes from a reputable brand, you may like the Revolution 4 Running Shoes from Nike. It offers extra support and excellent traction, and it has unique pods on the outsole for better multi-surface traction. The pod system also provides extra power for indoor or outdoor activities.
Overall Rating – 4.5
I like this slip-on loafer from ECCO — it is stylish and comfortable to wear. I notice that the leather insole is removable to fit an orthotic quickly. I also prefer its inner fabric lining because it is moisture-absorbent. It'll make sure your feet stay dry and fresh all day.
The arch support is exceptional, so I don't suffer from discomfort and pain I usually have when I stand or walk for too long. Its flaw is that it has minor quality issues, like stitching that may be a tad off-track. Nevertheless, my flat-footed guy friend likes wearing this pair of leather shoes.
Specs
Loafer
100% cow leather
Synthetic sole
Removable leather insole
Pros
Excellent arch support
Shock absorbent
Durable full-grain leather
Ecco Helsinki Slip-on loafer is an exceptional choice for flat-footed men. It's stylish and versatile to wear to the office, on a get-together with friends, or a night out. It is very comfortable to wear because of its arch cushion and support. If you're somebody who overpronates, this loafer is a great and affordable pair of shoes for you.
Overall Rating – 4.5
Stylish guys like using the Dansko Wyatt Loafer for work, especially if I know that I'll be standing for an extended time. It's comfortable to use, so it lessens the burden of having to stand for hours. I prefer the professional appeal of full grain leather.
Flat-footed people like me won't have any issues with this pair of shoes because it offers exemplary arch support. My only complaint is that I had to replace the shoelaces after a few days.
Specs
Loafer
100% full-grain leather
Synthetic, non-slip sole
PU midsole
Seal of Acceptance from the American Podiatric Medical Association for the outsole
Pros
Removable cushioned footbed to accommodate an orthotic
Anti-odor and antimicrobial sock liner
Lightweight and comfortable to use
Low-profile shape for relaxed movement
Cons
Inferior quality shoelaces
If you're searching for a stylish and professional pair of shoes, you may like the Dansko Wyatt Loafer. They're foot-friendly, and the moc-toe design and stitching details make them more fashionable.
The exquisite leather lining offers maximum durability, and the EVA cushions provide firm support for your feet. The polyurethane midsole is an excellent shock absorber. The sock liner absorbs moisture efficiently.
Overall Rating – 4.0
If you're one of those people who run around the block regularly, you would prefer your footwear to provide maximum comfort and reinforcement. If you're flatfooted, you have to choose your shoes carefully. You'd like the ASICS Gel Kayano 26 for its perfect fit and affordability.
It has several colors and features the Impact Guidance System for total support from heel to toe. ASICS did an excellent job with its design because it will let you move naturally, as the shoes bend at the right points. My sole issue is its uncomfortable toe box, especially on the big toes. It's pretty rough.
Specs
Running shoes
Mesh upper
Rubber sole
Organic nanofibers for the midsole
Pros
Impact Guidance System Technology enhances natural gait of the foot from heel-strike to toe-off
45-degree full-length SpevaFoam for improved comfort and soft platform feel
FlyteFoam Lyte Technology for continuous cushion
FlyteFoam Propel Technology for a supreme bounce
DuoMax Support System for enhanced stability and support
For runners with flat feet, they can opt to try the ASICS Men's Gel-Kayano 26 Running Shoes. Its FlyteFoam technology provides continuous cushion, supreme bounce, and lightweight arch support. Anyone wearing these shoes can experience improved comfort as they go about their daily exercise routines. Flat-footed runners can pick this pair if they want a snug yet comfortable fit.
Overall Rating – 4.7
The Adidas Performance Thrasher 1.1M Trail running shoes is quite perfect for flat-footed men. It offers the stability and support, and it also has traction and treads that are essential for trail running. I like its all-weather and all-terrain ADIWEAR rubber because it is abrasion-resistant, and these sneakers have mesh fabric uppers that let your feet breathe.
Its non-slip polyester footbed keeps your feet secure, while its EVA midsole offers support and cushion.The sole issue could be sizing, but I read the other user reviews to learn that they ordered half-size bigger than their actual measurement. If you follow this suggestion you'd definitely be happy with the fit.
Specs
Trail Running Shoes
Textile/Synthetic upper
Rubber sole
Injected EVA midsole
Pros
All-weather and all-terrain ADIWEAR rubber
Smooth heel-to-toe transition
Non-slip and polyester fabric footbed for extra comfort
Ventilated and durable air mesh upper
If you're into trail running, you may want to try the Adidas Performance Men's Thrasher 1.1M. It's durable, lightweight, and makes your feet breathe because of its mesh uppers. You may also like its outsole because of its excellent traction. It's for intense outdoor sports activities, but you can also wear them every day. It's another quality product from the trusted brand that everyone knows.
Overall Rating – 4.1
The Adrenaline GTS 20 Running Shoe is very similar to its predecessor, the GTS 19. However, unlike the previous version, the GTS 20 has a softer mesh upper that makes it lighter than the GTS 19 by half an ounce.
I like its 12mm drop midsole because it means that you get comfortable foam padding under your foot. I also like GuideRails because they'll cup your feet and provide more under-arch support. It's an excellent daily trainer, but it's not versatile for speed training.
Specs
Running shoes
Synthetic/mesh upper
Rubber sole
DNA Loft crash pad cushions
Pros
Modernized, streamlined design
Offers support and stability
Excellent for runners who pronate
Soft cushioning for every footfall
GuideRails Support System for comfortable movement
Cons
No space for custom orthotics
Not for speed workouts
Brooks makes dependable running shoes, so if you're a flat-footed runner who desires durable products, the GTS 20 is right for your needs. Aside from the usual wear and tear, you won't get any unpleasant surprises. The GTS 20 also provides exceptional arch support through its GuideRails feature. It's excellent for daily training, on flat trails, and treadmills.
Overall Rating – 4.7
This is great for jogging around the neighborhood in the morning — the Wave Inspire 14 is an excellent companion. It's comfortable to use, reliable, and durable even if you use it daily. For those who have flat feet, it offers exceptional cushion and arch support.
It's the essential running shoes for flat-footed joggers. Although I don't have any issue with the 12mm drop, it may cause problems with runners who often land on midfoot because it's too high.
Specs
Running shoes
Synthetic, air mesh upper
Rubber sole
Mizuno U4ic foam for midsole
Pros
Ultra-soft heel cushioning
Exceptional stability
Roomy toe box
Secure lock on the heel
Excellent wrap on midfoot
Comfortable upper
Cons
12 mm drop is too high for people used to land on midfoot
Mizuno Wave Inspire 14 running shoes have a classic design. Its DynamicFit feature allows it to hug your flat feet, but because of the synthetic, air mesh upper, your feet also breathe well.
The sole flexes to your motion and provides ample foot and arch support. Its anatomical sock liner offers supreme comfort. You may wish to try it if you're searching for a lightweight pair that you can use for jogging.
Overall Rating – 4.4
I like the Saucony Guide 13 because of its PWRRUN midsole, which is a new material that's softer and bouncier than the Guide ISO 2. These running shoes provide the utmost support and stability due to its guidance frame inside. It has an L-shaped plastic that accommodates the entire midsole for an effortless and smoother run.
For this model, the toecap is inside the shoe, and the upper and tongue are softer. You'd also feel the extra padding around the heel. It has enough shock absorption for long runs. For me, it has one flaw, though. It's excellent as a daily trainer, but at 10.2oz, it's not for speedwork.
Specs
Running shoes
Synthetic, mesh upper
PWRRUN midsole
Crystal rubber sole
Pros
Responsive cushioning with just-right softness
Medial TPU frame guides the feet through their natural gait quietly and quickly
FORMFIT accommodates several foot shapes
The Saucony Guide 13 is an uncomplicated daily trainer that will guide your gait to almost neutral. Its flexible TPU frame supports the inner arch up to the edge of the heel. It's for moderate overpronators but unobtrusive enough for neutral runners.
Your flat feet will thank you for the three foam layers that provide cushioning under the sole. This pair of running shoes will conform to your feet, and its contoured bottom offers shock absorption that may be just short of Enko's that may be just short of Enko's.
Overall Rating – 4.4
I like the Fresh Foam Vongo V2 running shoes because of its innovative outsole design that's soft and durable. New Balance uses two rubber materials to provide protection and sturdiness for high mileage. The hexagonal shape offers an extra flexible grip with a flex groove that covers the entire sole.
The patented midsole foam reduces injury and pain risks because it allows an energy return and springy feedback. The molded sock liner extends an extra cushioning layer. New Balance created a more flexible and lightweight upper for the Vongo V2.
Its engineered mesh allows the feet to breathe and reduces discomfort and friction from the stitches and seams.  The FantomFit overlay on the fabric offers extra support. The significant flaw for me is that it's heavier than its predecessor, and provides weaker stability. However, I quickly resolved the issue by inserting an orthotic.
Specs
Running shoes
Synthetic, mesh upper
Rubber sole
Fresh-foam midsole
Pros
Close-fitting toe box
Excellent cushion
Comfortable feet
Breathable upper
Cons
Underfoot is too flexible due to the extended longitudinal flex groove
Heavier but with lower stability than its previous model
The New Balance Fresh Foam Vongo V2 provides relief to your ankles and feet that take a beating for whatever activity you have. It offers balanced support and cushioning with its FantomFit technology that makes you feel you're not wearing any shoe at all. It's street-ready, so you can head straight to wherever you're going after buying, and it's a versatile running shoe that you can use every day.
Overall Rating – 4.6
Buying Guide For The Best Shoes For Flat-Footed Men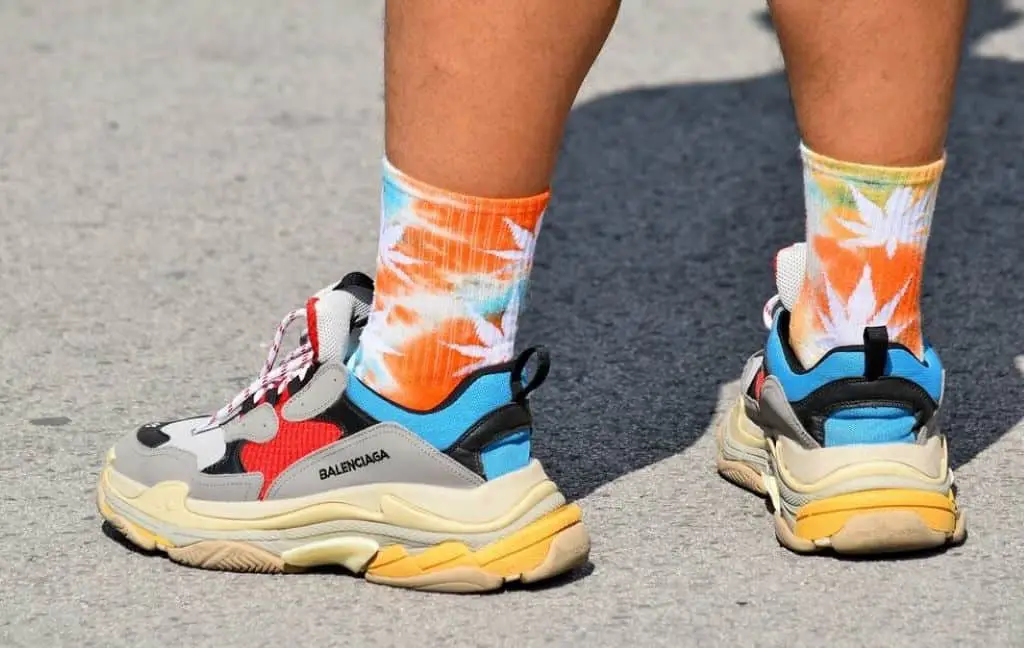 Flat feet or overpronation is a prevalent condition where the arches fall, but it's a genetic condition that doesn't require surgery. If you have flat feet, you may notice that your back and calves ache. You also feel a constant stabbing pain around your heels.
A flat-footed individual may have little motivation and reduced physical activity because he's in pain even when he's walking for a few minutes. He must choose the best shoes for flat feet for men appropriate shoes to reduce aches and pains.
Kinds of Flat Feet
People can have flat feet because of their genetics, but some individuals have them because of muscle weakness. The difference is that for the latter, he can add arch support until his feet can support their arches.
On the other hand, for individuals with anatomically flat feet, their arch support causes knee problems. Before choosing a shoe, you have to ensure the type of flat foot you have because it can affect your range of motion, hips, and knees.
Overpronation is a condition wherein the foot arch rolls inward after landing. Flat-footed people are prone to it, especially when they run. Some of them, however, are efficient and don't experience it. Individuals who have flat feet have to find shoes with a straight shoe-last because it has a broader midfoot base.
The prevalent footwear design has an hourglass shape that doesn't provide stability. Flat-footed men tend to put weight on the fabric upper, which don't offer foot support as efficiently as the midsole.
They experience heel, joining, and foot pain, and discomfort. Some shoe manufacturers create footwear for this type of person.
Types Of Footwear For Flat Feet
Casual Shoes
Casual shoes are an excellent alternative if you have flat feet. You have to choose one that has a firm heel counter and arch support. You may opt for removable insoles if you wear orthotics. Boots, clogs, and flip-flops don't offer the appropriate reinforcement. You may experience elevated discomfort from wearing them.
Orthotic Shoes
Orthotic shoes are quite stiff because they have very thick heel counters, which often have steel shanks. They have heel-locking mechanisms, well-padded collars, and built-in footbed technology. The drawback is its appearance because these shoes aren't fashionable or flattering.
Running Shoes
Runners with flat feet often have their ankles inward, so they easily strain their feet, ankles, and knees. They are also prone to injuries; thus, they need stability footwear to prevent pronation and offer cushioning in the right areas.
These shoes are lightweight with breathable materials. Some of them have removable insoles for the orthotic inserts.
Sandals
Sandals must have built-in arch support for the proper functioning of the feet. Due to their nature, they don't have the structures of regular shoes, so you can expect that it won't provide the necessary support you need.
Top Considerations For Buying Shoes For Men With Flat Feet
Flat-footed men need shoes that offer stability, comfort, and support because they're prone to discomfort and pain.
Stability and Support
If you have flat feet, you have to pick shoes that won't bend in the middle because your midfoot requires excellent support. You can opt for a stiff sole because it provides optimal reinforcement for your arches and prevents overpronation.
A firm heel can offer support around the ankles that are prone to rolling too. A stiff outsole can strengthen your arch and prevent your foot from overpronation. You may think that it's uncomfortable to wear hard shoes. It's not necessarily the case because high-quality stability footwear offers ample comfort and padding.
Breathability
Breathability is another factor that you have to consider when buying shoes for your flat feet. Lack of ventilation and moisture control make you uncomfortable, and they can cause some severe issues. Adequate breathability limits the growth of bacteria.
If it's possible, you have to pick shoes that have moisture-wicking and sweat-resistant features.
Shock Absorption
Flat-footed people need center support, the appropriate shock absorption, and protection from impact. They need excellent cushioning with a low-profile design. The outsole must also have protective aspects to make the shoes durable. It must protect the feet from the terrains and elements.
Final Thoughts
Overpronation is a prevalent issue of people with flat feet. It may be a cause of concern for active men because of a high risk of injuries when running. Many shoe manufacturers understand the issue, and they now offer shoes, specifically for flat-footed men.
The Revolution 4 Running Shoe from Nike is a top choice because not only is it affordable, it also provides optimal arch support and cushioning. Its upper mesh is breathable and lightweight for superb comfort. It's an excellent alternative for light activities. Why don't you try it today?